Only a few minutes ago we told you that the Apple TV was hacked to run Cydia and iOS Games (Angry Birds) using a Windows Manager hack that involved rewriting SpringBoard called MobileX. This technically means that you can turn your Apple TV into a $99 1GHz 720p iOS-based computer to do a variety of things such as:
Run Facebook On Apple TV
With this hack you can run the iPad 2 version of Facebook on your Jailbroken Apple TV 2G.
Run iPad UI On Apple TV
Another neat thing that you can do with this hack is run the iPad UI (basically a clone of the iPad iOS operating system) on your Jailbroken Apple TV.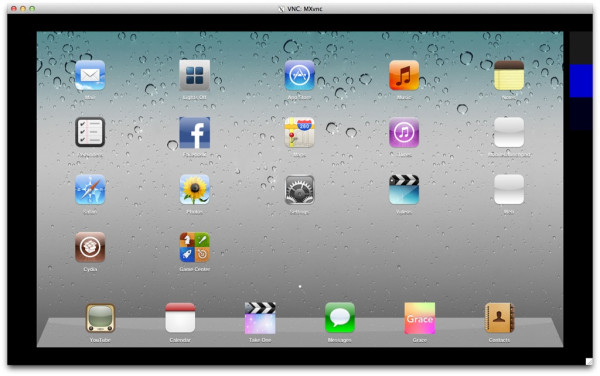 Run Native iOS Apps
This Apple TV hack means you can actually run native iOS apps on your Jailbroken Apple TV such as the Maps.app, Calender.app, Notes.app, YouTube.app etc.
Besides some of the features I have mentioned you can actually download any application from the AppStore, use FaceTime and so many other things! And this is just the start of this magnificent hack being developed very talented hackers who go by Steven Troughton-Smith and Nick.
In case you are wondering how the Apple TV can do all of this, it is thanks to MobileX (rewritten version of SpringBoard) and a built in VNC server that is basically a technology that can display the screen of another computer on your own screen through a TCP/IP connection. While the applications shown in this post are examples of applications to work well with the Apple TV, Steven has mentioned that some stock iOS apps fail massively meaning there is still some work to be done yet.
We will keep you updated with this very exciting Apple TV hack. In the mean time please stay tuned and leave any questions or thoughts in the comments section below…