Earlier today we told you that Apple pushed a firmware update for the Apple TV 2G and 1080p Apple TV 3G. Although there is still no official changelog available to see what has been added/changed, we do have some news relating to whether iOS 5.0.2 Build 9B830 is Jailbreak safe or not.
You see, recently @NitoTV tweeted that the AppleTV2,1_5.0.2_9B830 firmware is still vulnerable to Pod2G's untethered Jailbreak. As such it is now safe to update to the iOS 5.0.2 firmware on your Apple TV 2G as no exploits have been patched by Apple yet. It is important to keep in mind however, that this only relates to the Apple TV 2G and not the 1080p Apple TV 3G.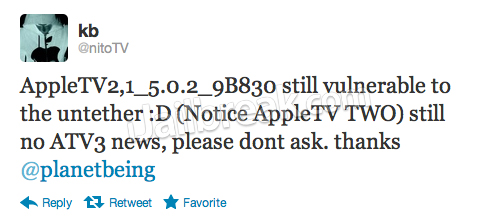 I personally would wait till you see what has changed in the iOS 5.0.2 firmware before updating, but as it is Jailbreak safe there is nothing really holding you back from updating. We will keep you updated when more information is available, until that time please stay tuned.