Remember back in June when Microsoft announced Windows Phone 8? Well, if you do then you probably remember that one of the flagship features was its browser – Internet Explorer 10. When Microsoft was talking about Internet Explorer 10 for Windows Phone 8 they mentioned that its Javascript engine was significantly faster than its competition. One of these devices that Internet Explorer 10 beat in Javascript performance, which generally means a faster browsing experience overall, was the iPhone 4S on iOS 6 (Beta).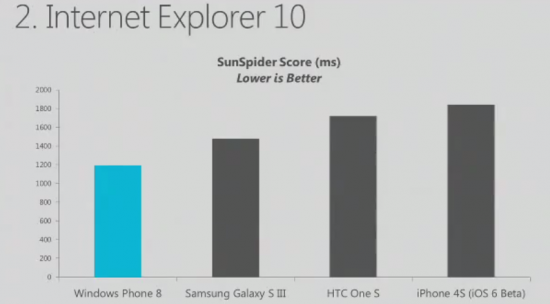 When we take a look at HTML5 compatibility however, Internet Explorer 10 seems to be behind. According to WPCentral the iPhone still beats Windows Phone 8 in the HTML5 features it supports via a test from HTML5Test.com.
One area though that IE10 seems to be behind ever so slightly is HTML5 compatibility and specifications… In this regard, IE10 on Windows Phone 8 [scored] 300 plus 6 Bonus points (awarded for audio-video support not specified). That is out of a possible 500 points plus 15 Bonus points. Android 4.0 (Ice Cream Sandwich) gets a score of 280 + 3 Bonus points while Apple's iOS 6 browser gets an impressive 360 + 9 Bonus points.
The features that Internet Explorer 10 was lacking in comparison to iOS 6 was MPEG-4 support, PCM audio support, embedding custom non-visable data, hidden attributes and input types. Regardless of Windows Phone 8 falling behind in the HTML5 division it still has some things going for it, like its Javascript performance, safer-browsing support and optional data-compression.
Once Windows Phone 8 is released and iOS 6 for the iPhone it will be interesting to see which browser comes out on top in a real world comparison. Of course one cannot forget about Android 4.1 Jelly Bean either, which would be just as interesting to pair Windows Phone 8 up against.