I think a question that a lot of people asked themselves when they saw the Samsung Galaxy S3's new S Voice feature was how does it compare to Siri? I know for one I was curious about how Siri would fare up to S Voice, especially after watching one of the first video demonstrations that surfaced on YouTube.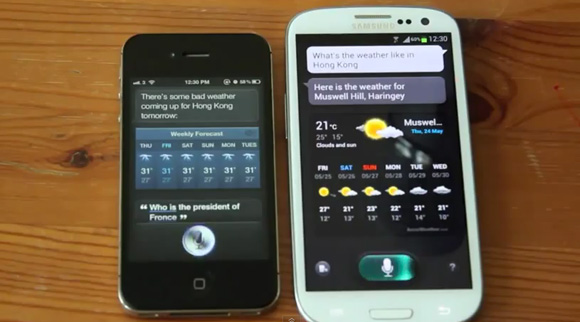 It looks like we can finally have a clear comparison between both Siri and S Voice thanks to The Verge who have put Siri and S Voice head-to-head. I won't say anymore until you have watched the video for yourself…
For those of you who actually watched the entire comparison video you will probably have noticed a couple things. First of all the individual doing the comparison had an accent, so this made some commands a little more difficult to interpret by both Sir and S Voice. In a way this was good however, because we could see that both Siri and S Voice struggled. Secondly, for the most part Siri seemed to be able to complete commands much faster than S Voice. Of course Siri was not able to provide answers for all the questions S Voice could, but I would say this is not enough for S Voice to come out on top.
S Voice is clearly a competitor to Siri and should make Android users happy to have something comparable to Siri. In my opinion however, Siri still comes out on top because overall it is more "polished" than S Voice. Who do you think came out on top? Leave your responses and further thoughts in the comments section below.