Pod2g is running a jailbroken version of iOS 5.1 on his iPhone 4, untethered. Earlier today the jailbreak developer tweeted that his jailbreak method requires 5-6 exploits (7 for legal reasons, according to Joshua Hill). This indicates that Pod2g's complex jailbreak method does indeed work, at least enough to untether his iPhone's jailbreak.

This doesn't mean that we're in the home stretch for all devices, much less that we're going to immediately see tools for untethering the iPhone 4's 5.1 jailbreak. All we know is Pod2g has an untether working for his iPhone 4 in some capacity. Even if they have a solution for their private machines, it might not be in a state that is stable (or legal) enough to release to the general public. (On the other hand, this could essentially be it.) Keep watching iJailbreak.com over the next few days. We will keep you updated as the story unfolds.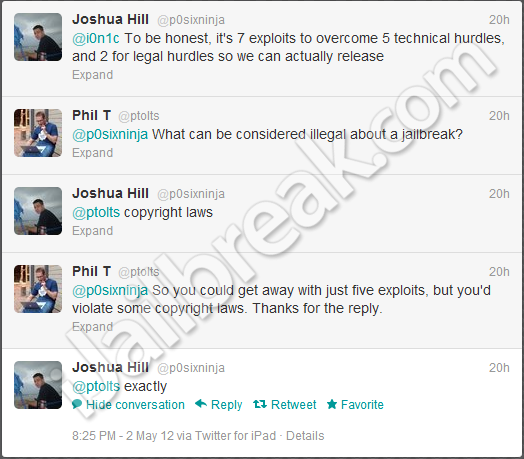 Do you think Pod2g will release the iPhone 4's untether before releasing the jailbreak tool for all devices? Let us know what you think in the comments section below.