Apple sent out official invites to the iPhone 5 event yesterday, which will take place on September 12th. The invitation itself gives out a clue that the new iPhone will be called the iPhone 5. However, we pretty much know everything there is to know about the next-generation iPhone.
The rumors, reports, leaked photos and videos have pretty much ruined the surprise for the iPhone 5. We essentially know how it's going to look, and what will be new in terms of functionality. This is bad news for Apple's CEO Tim Cook, who was probably looking forward to give the best keynote ever. The iPhone 5 is expected to be a real big change in terms of design, looks and hardware. As such, the keynote has to be impressive, but it most likely won't be. JoyOfTech takes a peek into the future to see how that keynote from Tim Cook would go.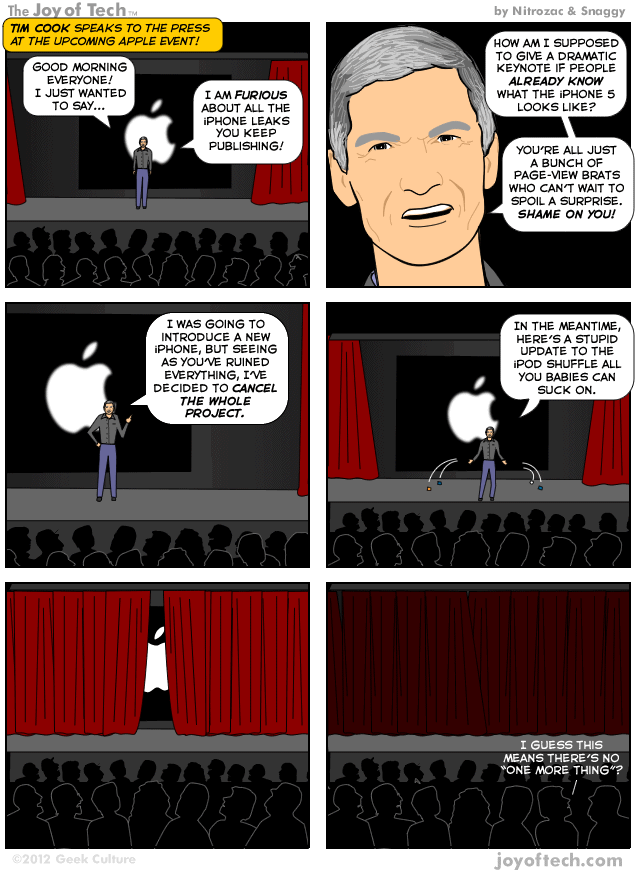 So, it looks like Tim Cook is going to disappoint all of us Apple fans by cancelling the launch of the iPhone 5 on stage.
Don't worry, that is not going to happen! We're all looking forward to the launch of the new iPhone 5. And, the keynote will be EPIC. What do you think? Let us know in the comments.