iPhone Dev-Team Working On A Very Promising iPhone 4S Unlocking Solution
It seems like recently the Jailbreaking Community has been fairly quiet on any new developments. This weekend, however, has been a very different story. Chronic Dev have announced a new tool to start a whole new chapter for the Jailbreaking community, and now MuscleNerd has announced that the iPhone Dev-Team have discovered a very promising exploits that could be used to unlock the iPhone 4S.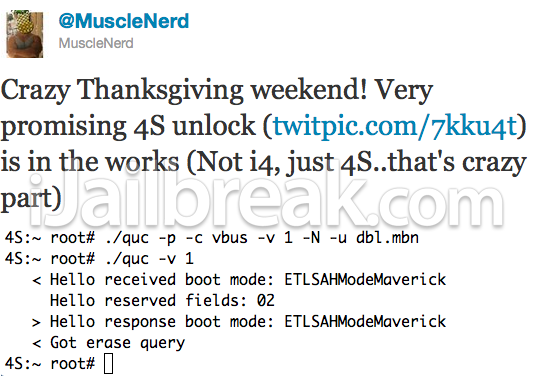 If the iPhone Dev-Team can turn this exploit into a workable unlocking solution, they could release an updated version of UltraSn0w that could unlock the iPhone 4S on the latest baseband version. In case you are not aware of what UltraSn0w is, it is basically a Cydia package you download that automatically can unlock an iPhone after being Jailbroken.
It is no doubt that we have heard promises of different NEW software unlock solutions in the past, but hopefully this time the iPhone Dev-Team can actually release a working iPhone 4S unlock solution. We will keep you updated when new information is revealed about this promising iPhone 4S unlock exploit. In the mean time please let us know if this iPhone 4S unlock would be something you would be interested in, in the comments section below…
Make sure you stay subscribed through our social media feeds, so that you never miss a beat, by liking us on Facebook, following us on Twitter and joining our circle on Google+.
Hey, you! Join the iJailbreak Insider for weekly newsletters, Jailbreak alerts, contests and more. (No spam, we promise)