The smartphone market is changing, while the top competitors fight it out to gain the top spot in customer satisfaction. After all, it's not the number of activations that matter, it's the number of people satisfied with the smartphone and the operating system that holds greater value. It's been quite a while that Google and Apple have been battling to get the top spot, but Google's Android OS is not good when it comes to customer satisfaction.
According to a Customer satisfaction research conducted by Changewave Research, Apple is still on top of the list. The report shows that the iPhone customer satisfaction is at 75 percent, followed by Samsung, HTC, Motorola, LG, Nokia and RIM. Looks like BlackBerry users are not at all satisfied with their devices and even Nokia, who once was the best mobile manufacturer in the world, is lagging far behind others.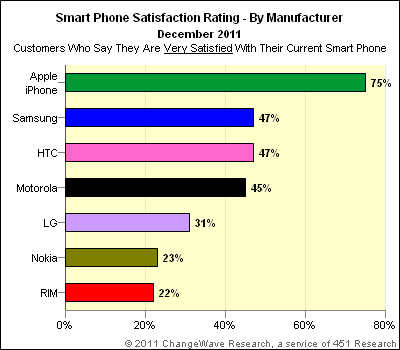 In Mobile OS satisfaction, Apple's iOS still leads the way, followed by Android, Windows Phone OS and BlackBerry. This is again surprising, as Windows Phone OS won the best mobile OS of 2011, but isn't satisfying its users very well. Now, that's bad for Nokia, because they've been relying on WP7 to gain their lost fame back.
We have no idea what the scenario is going to be like in 2012, with a potential iPhone 5 on the way and also a Samsung Galaxy S3. How satisfied are you with your mobile device and OS?