Apple's iPhone 5S isn't expected to be announced at the WWDC 2013, but a document from Japanese telecom KDDI's "au" wireless obtained by the French website Nowehereelse.fr proves otherwise. Apparently the document in question is a "cheat sheet" for the sales floor in cell phone dealers/official carrier stores. Obviously the documents authenticity cannot be proved, but for the most part it looks to be believable.
As you can see the iPhone 5S is starred and has been printed in red. It goes on the state that the iPhone 5S has been scheduled for a pre-sale announcement date of June 20th with sales starting in July. If you have been following along with recent iPhone 5S rumors the handset is expected to feature a fingerprint reader, 13-megapixel camera and iOS 7.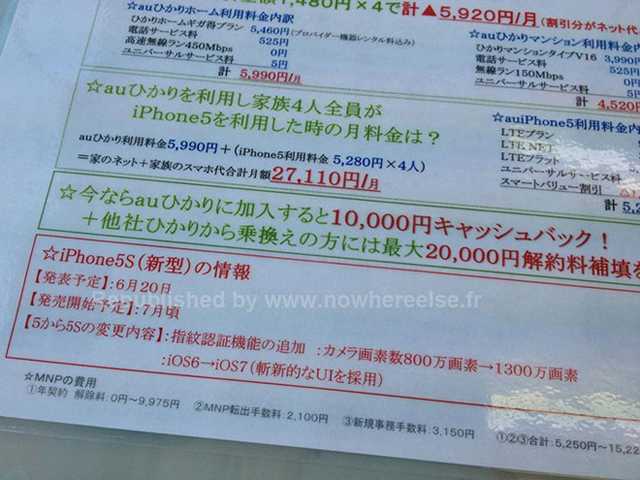 The area in green talks about the current monthly plans for the iPhone 5, including LTE flat rate plans and family calling subscription options, as well as a cash back bundle offer for users of the telecom's "hikari" home internet service.
We have now heard conflicting reports whether or not hardware will be announced at the WWDC 2013. Although a lot of people would love to see Apple announce something alongside software at the WWDC, it is hard to say with all the rumors we have been hearing about Apple struggling with various components for their next-generation iOS devices.