The iPhone 5 Is Up To Twice As Fast As The Samsung Galaxy S III
During Apple's keynote at the launch of the iPhone 5, it was stated that the iPhone 5 is two times faster than the iPhone 4S. What about the competition then? Well, here's your answer. The iPhone 5 pretty much beats all the top Android phones in the market, including the Samsung Galaxy S III.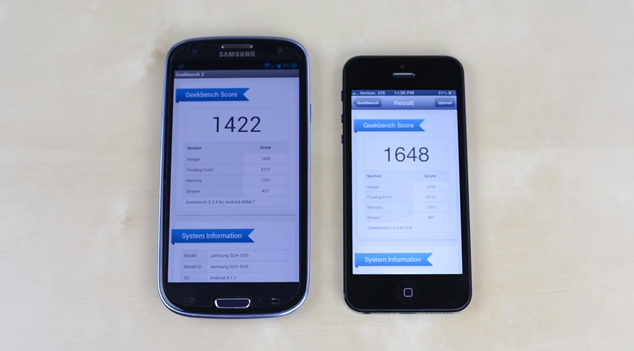 Many reports have been surfacing lately, showing that the iPhone 5 indeed performs much better than the Samsung Galaxy S III. And now, there's a video to back all that. Of course, the Galaxy S III used in the following video is a dual-core version, but then again, the iPhone 5 too has an Apple A6 dual-core processor. The Galaxy S III's processor clocks at about 1.5GHz, whereas the iPhone 5′s fluctuates between 800Mhz- 1Ghz. Despite of the difference in clock speeds, the iPhone 5 fared very well against the S III. Several industry benchmark tools such as GeekBench, GLBenchmark and the SunSpider test were conducted to see who wins the duel. Check out the video below to see what happened.
As you can see, the iPhone 5 won all three tests. Those graphics were really laggy on the Galaxy SIII, but super smooth on the iPhone 5. What's your pick?
Make sure you stay subscribed through our social media feeds, so that you never miss a beat, by liking us on Facebook, following us on Twitter and joining our circle on Google+.
Hey, you! Join the iJailbreak Insider for weekly newsletters, Jailbreak alerts, contests and more. (No spam, we promise)