Apple claims that the iPhone 5 is up to twice as fast compared to the iPhone 4S, so how fast is against the original iPhone 2G? Well, it's time to find out. We've seen performance tests between the iPhone 5 and iPhone 4S, and the former isn't really all that fast. Of course, it takes better low-light pictures, has faster graphics and LTE, but it isn't necessarily twice as fast as the iPhone 4S.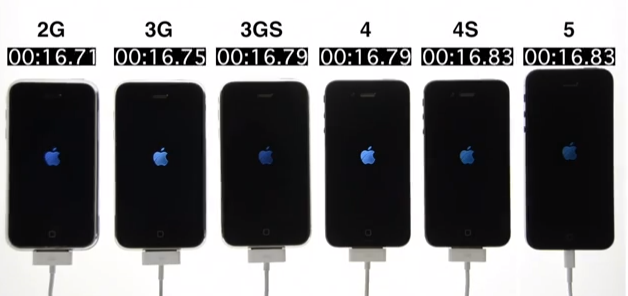 It's only a simple boot test, but that tells a lot about the latest iPhone's speed and performance. We've come a long way since the original iPhone, it has been over 6 years and it has only gotten better. Here's a simple Boot up test, courtesy of iClarified, that compares the iPhone 5 with all its predecessors. It's an amazing thing to watch all the iPhones boot up at the same time. The iPhone 2G, iPhone 3G, iPhone 3GS, iPhone 4, iPhone 4S and iPhone 5. Check it out below.
As you can see, the iPhone 5 took about 24 seconds to boot up, whereas the iPhone 2G took roughly 1:10 seconds to do so. Another thing to notice is that the iPhone 3GS booted faster than the iPhone 4. Keep in mind that all these were restored to their highest possible firmwares before the test and are completely stock.