Apple announced the iPhone 5 on Wednesday September 12th and we could not of been more excited. With the iPhone 5's larger screen, 4G LTE connectivity and slimmer design, who could not want one of these bad boys?
Most of the iJailbreak team will be getting their hands on an iPhone 5 within the very near future, and though we wish everyone could lay their hands upon Apple's iPhone 5, we understand this is not the reality for everyone. As such, we have decided to give away a 32GB iPhone 5 to one lucky reader.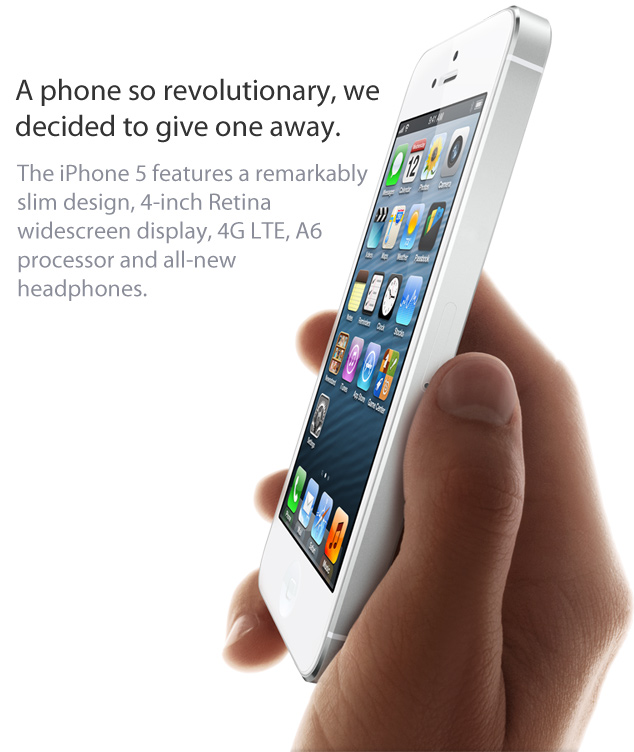 As the iPhone 5 comes in three variants – two GSM and one CDMA – it would not make sense to give away a physical iPhone 5. There is just too many variables, especially when we factor in location, carrier and your current contract position. Thus, what we are going to do is give away a $300 USD Apple Store gift card that you can use towards the purchase of a 32GB iPhone 5.
How To Enter The iPhone 5 Giveaway
With the housekeeping material out of the way, let's move on to how you actually go about entering this iPhone 5 giveaway. In order to be eligible to enter the 32GB iPhone 5 giveaway you must complete the 5 requirements listed below.
Send out the following tweet below, and follow @iJailbreak on Twitter
I just entered to win a 32GB iPhone 5! http://bit.ly/QM6kH4 Follow @iJailbreak & RT to WIN!
Click the Facebook like button and Google+ button at the top or bottom of this article
Join our Facebook Crew and our Google+ Circle
Leave a comment with both your Facebook and Twitter username, and also the reason why you should win the giveaway
The winner of iJailbreak's 32GB iPhone 5 giveaway will be announced next Thursday! This is one day before the iPhone 5 hits shelves. Please ensure that you have completed all 5 steps to be eligible to enter our giveaway and let us know if you have not completed a step to avoid being disqualified. From the iJailbreak team, we wish you all the best of luck!
Update #1: This giveaway is open to anyone who has an internet connection. It IS NOT age, or location restricted in any form.
Update #2: *Drum Roll* The Winner Of The 32GB iPhone 5 Is…