If you have been wondering how much the iPhone 5 actually costs Apple to manufacture then you will be glad to know TechInsights has done a preliminary report on materials cost for the 16GB iPhone 5. Obviously we will have to wait until Apple ships the iPhone 5 until we can get an 100% accurate appraisal, but TechInsights should not be that far off.
Apparently the 16GB iPhone 5 costs Apple $167.50, which represents about a $35 hike in price compared to the iPhone 4S. It is important to also bear in mind though that the quoted price does not include research and development, assembly, packaging, shipping, software etc.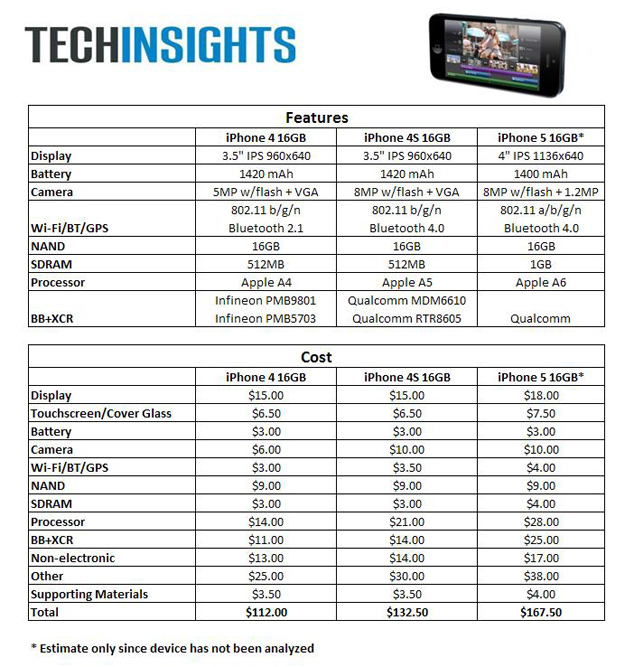 What has raised the price of the iPhone 5? Well, according to WSJ both the LTE circuitry and the new A6 processor are the main reason the iPhone 5 costs Apple more to manufacture, but the increased screen real estate also plays a part in the increased materials cost.
One issue that has been plaguing Apple consumers is that Apple likes to really hike up the iPhone's price when you move up the storage tiers. If you wanted to purchase a 32GB iPhone you are looking at a price hike of $100, but for Apple this represents only another $10 increase in materials. As Doug Freedman, an analyst at RBC Capital Markets, says "Apple is not exactly motivating their customer base to buy the extra storage capacity."