Last year, most of us were badly disappointed when Apple went ahead and announced the iPhone 4S. The public was all waiting for an iPhone 5, which was what everybody thought Apple would announce. A larger screen, better camera, new design and some other fancy new technology. Unfortunately, that didn't happen and all the rumors and concepts are now covered in dust. But, a new iPhone 5 concept is here to kick-start all the rumors again and bring something new and fresh to the table.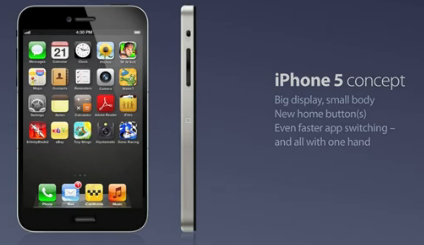 This new iPhone 5 concept from Kris Groen (via AppAdvice reader) shows something new. The 4 inch retina display is still there, but the home button is missing from the bottom of the phone, and two new buttons are added to the sides of the phone. According to the designer, this helps keep the length of the iPhone 5 equal to that of the iPhone 4/4S, but can accommodate a larger display. The two buttons on either sides, when pressed together, will act as the home button and you can also switch between apps using these buttons. Watch the video below.
However, the buttons on the side doesn't sound like a very good idea to me. Buttons on both the sides for home? Heck, I'm going to be exiting apps all the time when I hold it with one hand! What do you guys think? Let us know in the comments!