iPhone 4S Baseband Bootrom Has Been Dumped! [Yet Another Step Closer To An iPhone 4S Unlock]
If you remember back a few days ago, you will most likely remember us mentioning that the iPhone Dev-Team mentioned they had discovered a very promising iPhone 4S unlock. By the looks of it, this very promising iPhone 4S unlock may actually turn into a reality. You see, yesterday MuscleNerd tweeted to the world that the iPhone Dev-Team have successfully dumped the iPhone 4S' baseband bootrom. This essentially means that a software based iPhone 4S unlock is almost certainly guaranteed to be available in the very near future; most likely in the form of an updated version of UltraSn0w. It is important to keep in mind, however, that before the iPhone 4S can be unlocked with this software based exploit, an iPhone 4S Jailbreak will need to be released.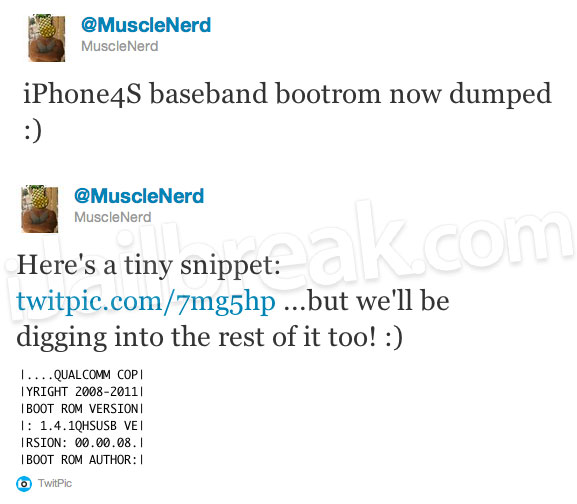 For all owners of an iPhone 4S wanting a stable unlocking solution besides purchasing a factory unlocked iPhone 4S, this is definitely something to look forward to! We will keep you updated when we hear more progress from MuscleNerd on how the iPhone 4S software unlocking solution is coming along. Until that time please stay tuned and share any questions or thoughts in the comments section below…
Make sure you stay subscribed through our social media feeds, so that you never miss a beat, by liking us on Facebook, following us on Twitter and joining our circle on Google+.
Hey, you! Join the iJailbreak Insider for weekly newsletters, Jailbreak alerts, contests and more. (No spam, we promise)