iFixit has disassembled the iPhone 4S recently to take a peak at its' hardware. From the looks of the teardown nothing majorly has changed in terms of how everything in the iPhone 4S is laid out inside the iPhone 4S' protective casing. There is of course some updated components but iFixit still gives the iPhone 4S a repairability score of 6, like its' predecessor.
Apple's A5 System-on-a-Chip: 1 GHz Dual-Core Processor
8 MP Rear-Facing (1080p Video Capture) + VGA Front-Facing Cameras
802.11 b/g/n + Bluetooth 4.0 (oo-la-la!)
LED Backlit IPS TFT LCD Retina Display with a resolution of 960 x 640 pixels
Quad-band GSM/GPRS/EDGE + Dual-band CDMA/EV-DO Rev support (World phone)
Apple has supposedly fixed the antenna issue that emerged immediately following the release of the iPhone 4. Does this mean we won't be receiving a free case this year? Bummer!
The SIM slot is back! Since the iPhone 4S is a world phone, it will support both GSM and CDMA networks. Regardless of your carrier, you can be sure that the micro-SIM slot will be there to accept your GSM micro-SIM cards, as well as any CDMA "roaming SIM."
Apple A5 Dual-core Processor
Qualcomm RTR8605 Multi-band/mode RF Transceiver. Chipworks has provided us with a die photo.
Skyworks 77464-20 Load-Insensitive Power Amplifier (LIPA®) module developed for WCDMA applications
Avago ACPM-7181 Power Amplifier
TriQuint TQM9M9030 surface acoustic wave (SAW) filter
TriQuint TQM66052 (possibly a PA-Duplexer Module)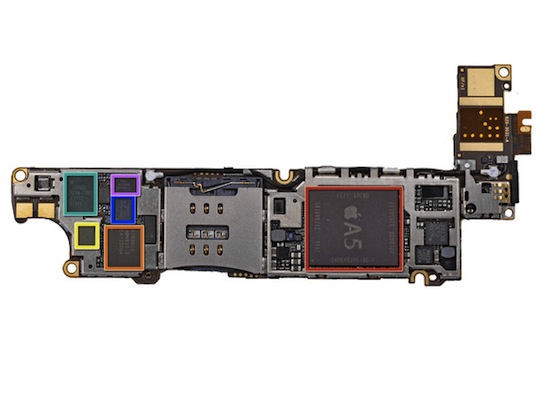 You can head on over to iFixit for more of the iPhone 4S teardown.