iH8sn0w has released iDetector, a new application tool that checks your iPhone 3G[S] for the new or old Bootrom.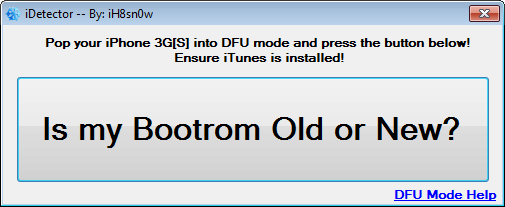 Description:
iDector is a real easy to use application to tell wheter or not your iPhone 3G[S] contains the New Bootrom or the Old bootrom. Simply place your 3GS into DFU mode and click the button.
How to:
Place your iPhone 3GS into DFU mode.
Click button. Simple!
How to enter DFU mode:
Make sure the iDevice is turned off first.
Connect the iDevice to your PC/Mac.
Press and hold Home + Power/Sleep button for about 10 seconds.
Release the Power/Sleep button while continuing to press the Home button.
To exit DFU mode, press and hold Home + Power/Sleep button continuously.
Note: iDetector is only available for Windows.
Download iDetector for Windows here.