No, it isn't a typo, I said iPhone 5. While we are still talking about the Apple iPhone 4S, the people over at ADR Studies have come up with a sweet concept design for an attachment to the unreleased iPhone to take great photos. While we are sure that the iPhone 5 will be a redesigned phone, the specifics are far from concrete. But for all those who have read the official "Steve Jobs" biography by Walter Isaacson (You can buy it here or here), you will know that Steve Jobs wanted to reinvent three key industies: television, textbooks and photography. While we know he has done some of a change to the way we purchase and use textbooks with iBooks, the photography and television industries haven't seen that much of a change.
We do love using our iPhones to take pictures that is no question, but iCam's design takes it to an entire different level.This would turn your iPhone into a fully enabled point-and-shoot camera. Their attachment includes a 10.1 megapixel sensor, an ISO range from 100 to 3200, and full HD at 60fps. Some point-and-shoots on the market right now don't even have specifications like that! The design also includes an aluminium unibody (naturally has to look clean like the iPhone 5), interchangeable lenses, touch-screen on the front, LED flash, pico-projector, motion sensor, bluetooth and SD UHS-i slot.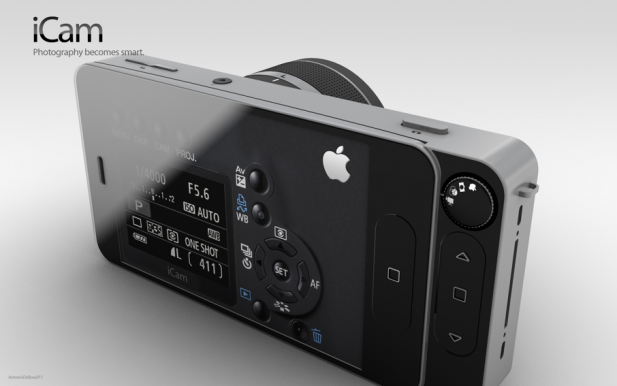 An accessory like this obviously would come with a hefty price tag, but would it interest you? Let us know in the comments below.