Fight Cancels iPhone 4S Sale In Beijing Apple Store
Apple stated that it will start selling the iPhone 4S in China, starting January 13th. One of China's biggest carrier, China Unicom, was supposed to be the one selling the iPhone 4S to the masses. The company also stated that they were looking at a huge sales number in China. The Apple Store in Beijing was supposed to open early at 7 am on January 13th and start selling the iPhone 4S. However, things kind of got out of hand!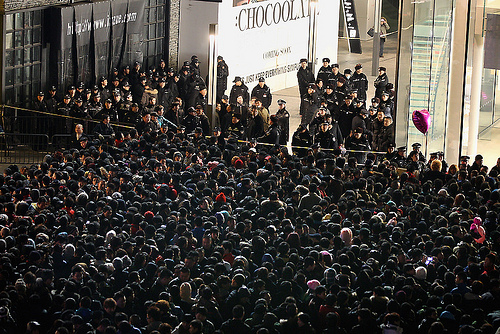 A fight started outside the Apple Store and thus they have decided to cancel the iPhone 4S sales. We recently told you about the huge lines that was building outside the store. Turns out, that most of them were scalpers trying to get their hands on the device to sell them on the streets. The scalpers were waiting outside in groups of 20, and then the fight started. Some even threw eggs at the Apple Store. According to Mic Gadget;
There are over thousands of people at the scene and seems like 99% of them are scalpers, according to local media reports. And according to our tipster, the scalpers are well organized, and they are divided into hundreds of teams, just like military forces. Each team includes 10-20 scalpers. Some of them even threw eggs at the glass door of the Apple store, while others threatened to assault the police.
In response, the store is currently not selling the iPhone 4S. A SWAT team has managed to get the situation under control. This is what happens when you sell the iPhone! Even in the past we've seen people wait outside Apple Stores, and there have been fights before too.
Sometimes, it gets really crazy and this is one example!
Make sure you stay subscribed through our social media feeds, so that you never miss a beat, by liking us on Facebook, following us on Twitter and joining our circle on Google+.
Hey, you! Join the iJailbreak Insider for weekly newsletters, Jailbreak alerts, contests and more. (No spam, we promise)