Clash Of The Mobile Titans: iPhone 5 Vs Galaxy S4 In Beautifully Designed Renderings [IMAGES]
The Samsung Galaxy S IV is without a doubt one of the most advanced mobile devices on the market today. It's hardware is unparalleled and it possess some unique software features. Although the iPhone 5 can't compete in terms of pure processing power, the iPhone 5 will still be the smartphone of choice to many.
Some argue that the Galaxy S IV's screen is just too big to be used with one hand, while many others despise how locked-down iOS really is. Whatever side you are on when it comes to smartphones, be it Android or iOS, you could make some very well crafted arguments why you would choose one handset over the other.
The designer who seems to be making rounds all over the internet right now, Martin Hajek, recently completely a highly detailed 3D model of the Samsung Galaxy S IV and he thought it would only be right to see what it looked like compared to the iPhone 5. Take a look at some of the amazing renderings below…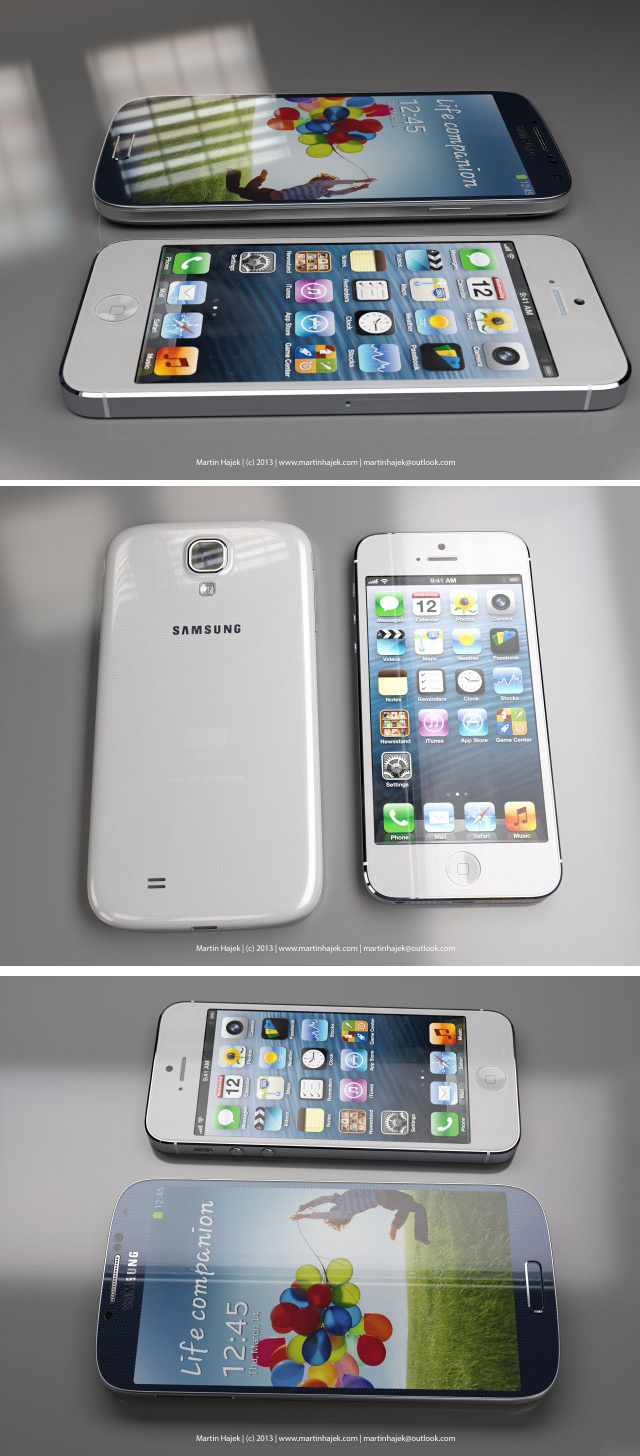 One of the first things that I personally notice is that the iPhone seems overpowered by the Galaxy S IV's large screen. It makes you wish your hands were just a little bit bigger so you could wield the device with one hand properly. That is not to say the iPhone 5 looks bad besides the Galaxy S IV, because bigger is definitely not always better.
Although your eyes are definitely caught by the Galaxy S IV, you can notice how the iPhone 5 looks of higher quality thanks to its aluminum body. Both devices look exceptional and Hajek has certainly done a great job at rendering both handsets.
There is no right or wrong answer when it comes to choosing a smartphone, it is all opinion. If anything, these renderings really capture the beauty of two of the hottest smartphones on the market. What side are you on? Share your thoughts in the comments section.
Make sure you stay subscribed through our social media feeds, so that you never miss a beat, by liking us on Facebook, following us on Twitter and joining our circle on Google+.
Hey, you! Join the iJailbreak Insider for weekly newsletters, Jailbreak alerts, contests and more. (No spam, we promise)