Backgrounder is one of the most essential downloads, if you have a jailbroken iPhone or iPod Touch. It allows you to run multiple apps at the same type, giving your device the multitasking feature we have been wanting from Apple.
Backgrounder is great, but it doesn't include a user friendly app switcher, to easily see and switch between what apps are being run in the background. I have been using a switcher called "Multiflow", which gives you a "cards" type view of your backgrounded apps, with the ability to switch between them and close them, but just recently, a free alternative called Circuitous, was released.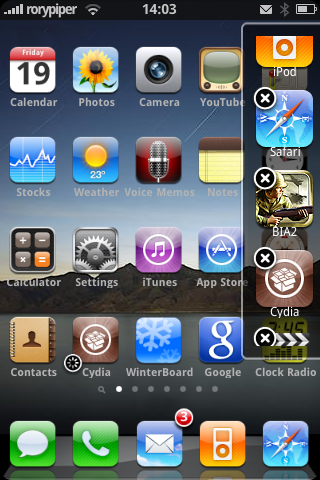 This new tweak comes from Dan Zimmerman, and is available in the BigBoss repo. Here's the description, as in Cydia:
Circuitous is a custom app switcher. It shows your open applications in a nice dock on the right side of the screen where you can launch and exit apps from there. Also, you can cycle through your open apps. With this I mean the apps you have open, in the order you opened them, are cycled. They open the next app in line. There is forward and backward cycling in this version! All three of these features, the dock, cycling forward, and cycling backward are all managed by Activator methods within the settings app. After installing, load the settings app and configure your preferred dock activation method.
Circuitous works very smoothly and has many customizations. You have a huge number of options when configuring the Circuitous dock and the cycler, separately. All kinds of different screen swipes and button presses to choose from, so this won't interfere with any other tweak or mod you may have installed, like SBSettings, QTweeter, etc.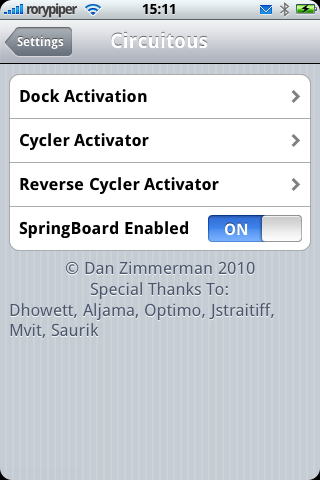 Here's a video of Circuitous in action. In this demo I have the dock activator set to a Slide-In gesture, "From Screen Bottom-Left", and the cycler set t0 Status Bar "Hold".
Circuitous is available in Cydia, for jailbroken Apple touch devices, for free.