Recently we have been hearing from the rumor mill that Apple is likely to release two new iPhone models this year. One will be an iPhone with a 4.7-inch display and the other with a 5.5-inch display. As such Ciccarese Design has released new renderings based off these new specs to give us a good idea on what  it might look like. It also gives us a look at how the homescreen could be arranged with a larger screen.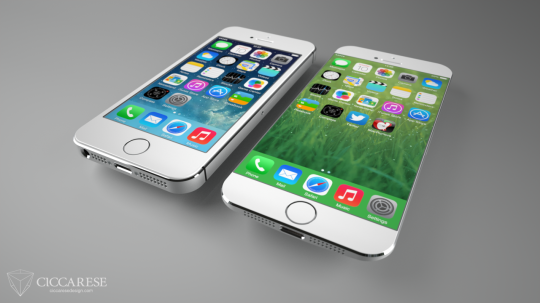 These are the screen resolutions Ciccarese Design has considered:
iPhone 6 4.7″ 750×1338 px Aspect ratio 16:9
iPhone 6 5.5″ 878×1568 px Aspect ratio 16:9
iPhone 5S 4″ 640×1138 px Aspect ratio 16:9
As you can see in the comparison image below the 4.7-inch iPhone has a 5 x 6 icon grid, while the 5.5-inch iPhone is able to fit a 6 x 7 icon grid. The iPhone 5s show to the left is of course based off a 4 x 5 home screen icon grid.
Ciccarese Design imagined a tapered back, but a recent report from the Wall Street Journal dismissed that claim. And as for the bezel-less design that hasn't been talked about too much so it is still up in the air.
Let us know what you think of this concept in the comments below.