C Spire (formally known as Cellular South) announced recently that they will begin offering the iPhone 4S (all models), iPhone 4 (8GB only) with unlimited data plans on November 11th, 2011. This means that C Spire is now officially the fourth carrier to offer the iPhone 4S and iPhone 4; other carriers offering the iPhone 4S/iPhone 4 are AT&T, Verizon and Sprint.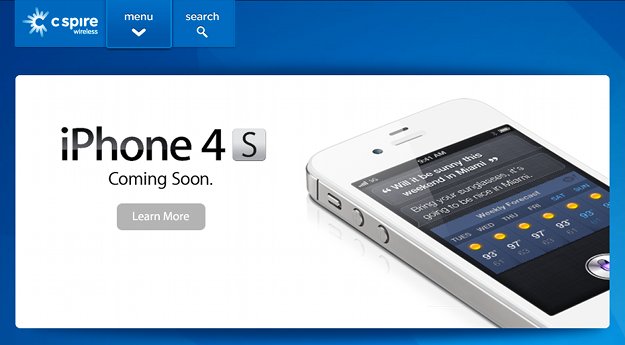 iPhone 4S will be available starting at $199.99 for the 16GB model, $299.99 for the 32GB model and $399.99 for the 64GB model with a new two-year contract and data plan. In addition, the iPhone 4 8GB model is available for $99.99, also with a new two-year contract and data plan. iPhone 4S and iPhone 4 will be available at C Spire Wireless retail stores, online at www.cspire.com/iPhone and through the Telesales group at 1-855-CSPIRE4. C Spire customers can pre-register for iPhone beginning today at www.cspire.com/iPhone.
The iPhone 4S and iPhone 4 can be pre-registered now by clicking here.
The reason C Spire acquired the rights to distribute the Apple iPhone is because they are hoping to increase their client-base by offering the high-demand iPhone (with an unlimited data plan) at a low price. Considering Apple sold over 4 million iPhone 4S' in the first 3 days, it is barely possible that C Spire will be disappointed.
C Spire is currently offering a total of four iPhone data plans that you can see below:

Note: First two of these data plans exclude video streaming services.
Do you still not have an iPhone? Just go to C Spire's website, and pre-register your iPhone 4S or 8 GB iPhone 4 right now.