iPhone rumors are all the rage right now and it seems like almost every day we have a new one popping up from the shadows. Thankfully today's rumor doesn't involve awkwardly named products like the 'iPhone Math', mind you in my opinion this was just a codename rather than an actual production name Apple was planning on using.
Today DigiTimes is reporting that Apple is planning to release two iPhones in 2013 that are likely to both include a 4-inch display and in-cell technology. The information reportedly comes from industry sources who additionally said "Previously it was said that Apple would release a lower-cost version of its iPhone with a bigger screen in 2013. But the sources claimed that Apple is indeed developing an iPhone with a bigger screen, but that will not be among the models to be lancuhed this year."
If Apple isn't going to release an iPhone with a larger screen this year, the second iPhone model that DigiTimes is talking about is the cheaper, entry-level iPhone. The site states "one of the two versions to be introduced this year will target the midrange market segment."
Surprisingly DigiTimes has said that although Apple plans to essentially introduce the iPhone 5S and an entry-level iPhone, both will feature in-cell touch technology. This of course conflicts that report we heard about Apple looking into 'touch-on-display' technology to replace in-cell.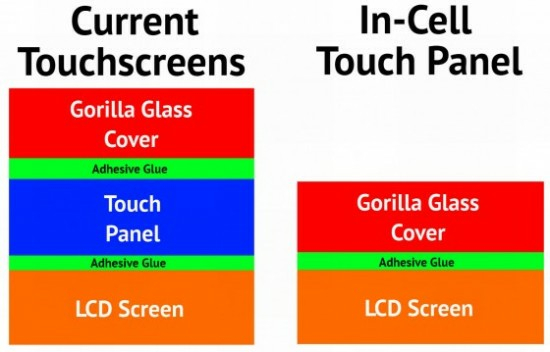 This could likely change however, as "the sources noted it is still yet to be determined if Apple will have adequate supply of in-cell touch panels in 2013 for a lower-cost version of the iPhone due to mass production issues from the technology in 2012." It is well known that Apple had a hard time keeping up with the initial demand for the iPhone 5 due to poor yields of the in-cell displays. Unless the fruit company has managed to see improvements of these yields, releasing two products that will likely end up selling faster than the iPhone 5, wouldn't make sense as a serious bottleneck would arise.