You can tell that Apple is starting to feel the pressure from other smartphone manufactures, when it launches a new web campaign saying why the iPhone is better than all of the other smartphones out there.
Yup, that's right. Apple has launched a new page titled 'Why iPhone' to get back in the news and to throw some dirt at other smartphones. After Samsung announced its new Galaxy S4 recently, the iPhone hasn't been getting a lot of attention. Now obviously, Apple had to do something about that. Here's what the page says:
There's iPhone.
Then there's everything else. 

What makes an iPhone unlike anything else? Maybe it's that it lets you do so many things. Or that it lets you do so many things so easily. Those are two reasons iPhone owners say they love their iPhone. But there are many others as well.
On this page, Apple discusses the positives of owning an iPhone, why consumers love it so much and more. It shows that this is a desperate time for Apple, since a lot of the Android smartphones are becoming on par or ahead of the iPhone in terms of both build quality and performance.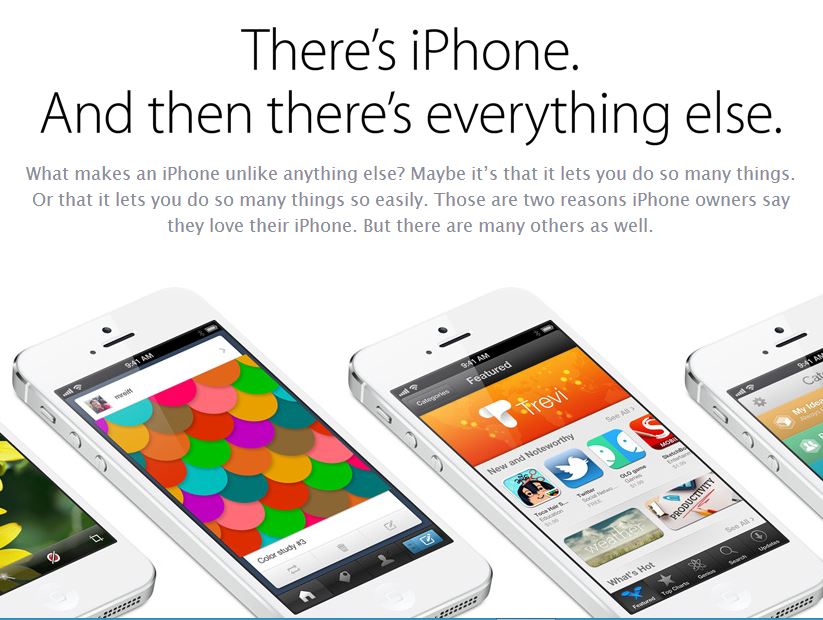 The iPhone has won every Customer Satisfaction study by J.D. Power and Associates since the launch of the first iPhone in 2007. That's six years in a row, which says a lot about the quality, make and reliability of the iPhone.
Wondering what are the top 3 most used cameras on photo sharing service Flickr? Well, it's the iPhone 4S (1), iPhone 4 (2) and iPhone 5 (3). Apple also talks about how the iPhone 5 is engineered with perfection in mind and even the most minute of details is taken care of. The iPhone 5 also provides good battery life without using a bigger battery, something that is common in most Android smartphones.
Apple continues to talk about the A6 chip, which is powerful but not power hungry, its LTE and superfast wireless capabilities, Siri, the Retina display, iTunes and App Store, iCloud and finally the real people or 'Genius' who help you with all your problems.
Samsung stated that they're hoping to sell about 100 million Galaxy S4's this year, which is probably not going to happen. After all, Apple will be announcing the iPhone 5S in a few months, which should put the limelight back on them.