Apple Maps Faces Criticism Over Missing Cities, Misplaced Landmarks
According to the public's reaction to yesterday's release of iOS 6, and the new Apple Maps app that replaces Google Maps, things aren't going quite as smoothly as Apple may have hoped. Apple Maps is under heavy fire for a number of glaring mistakes in its information, including entire towns that are completely missing.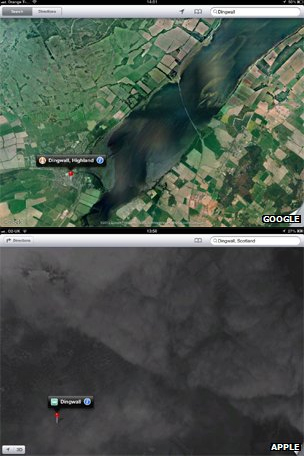 A report from CNet offers a few specific examples of Apple Maps' shortcomings: in the ocean off the coast of China, the Diaoyu Islands have been duplicated in a way that makes it look like there's two of each island right next to each other. In Ireland, a farm called "Airfield House" has been mistakenly labeled as an airport, causing the Irish Minister of Justice to fret about pilots trying to land their planes in a field full of cows.
The BBC also has a list of some pretty serious errors, such as towns that were misplaced, or missing entirely. Their list includes:
Some towns appear to be missing, such as Stratford-upon-Avon and Solihull.
Others, like Uckfield in East Sussex, are in the wrong location.
Satellite images of various locations, particularly in Scotland, are obscured by cloud.
A search for Manchester United Football Club directs users to Sale United Football Club, a community team for ages five and above.
Users also reported missing local places, such as schools, or strange locations. Another screenshot showed a furniture museum that was apparently located in a river.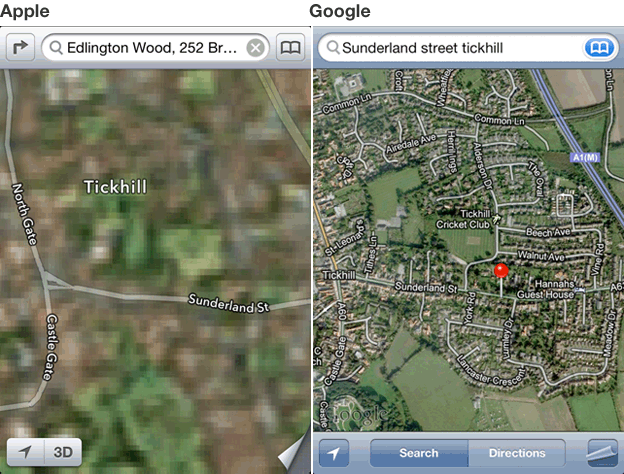 TomTom, the company that provides Apple with their mapping data, has been quick to distance themselves from the situation. A spokesman for TomTom told the BBC, "The user experience is determined by adding additional features to the map application such as visual imagery. User experience fully depends on the choices these manufacturers make.
"We are confident about our map quality, as selling 65 million portable navigation devices across the world and more than 1.4m TomTom apps for iPhone in the past two years reaffirms this quality."
Make sure you stay subscribed through our social media feeds, so that you never miss a beat, by liking us on Facebook, following us on Twitter and joining our circle on Google+.
Hey, you! Join the iJailbreak Insider for weekly newsletters, Jailbreak alerts, contests and more. (No spam, we promise)