There has been no doubt a lot of rumors going around that Apple is looking to make the next-generation iPhone come in multiple colors, just like the 5th generation iPod Touch. When you think about it, it makes a lot of sense how Apple would make a less popular device come with more color options initially, to get a feel for which colors are the most popular, and then open up the option of having more color choice to one of the its most popular products — the iPhone.
In case this rumor needed any more weight to it, Apple has recently posted a job opening for an Anodizing Engineer to help add a splash of color to future devices. In the case of the 'iPhone 5S' it is predicted that Apple will be anodizing the rear aluminum plate and of course the antenna bands. A company called AnoStyle actually offers to do something similar to this right now to your iPhone 5 and the results (as you can see below) are impressive to say the least.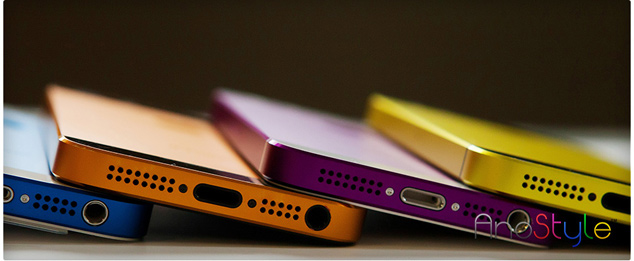 Apple is looking for someone with 5 plus years of experience in the Aluminum Anodizing field and the job description reads as follows:
Define world-class anodizing processes that achieve the cosmetic and functional requirements of a part.
Be a self-starter by defining all engineering tasks to meet project objectives and have the ability to quickly learn about new processes with very little information provided.
Understand and own the interactions between the alloying elements of aluminum and the anodizing process.
Knowledge and usage of statistical tools (JMP, Minitab)
Familiarity with advanced manufacturing processes (Extrusion, Casting, Forging, Welding, CNC machining) specifically in Aluminum and many alloys
Expertise in surface preparation and advanced surface finishing processes (lapping, polishing, blasting, tumbling, etching, anodizing, PVD) in Aluminum
Experience with high-quality cosmetic parts
Provide onsite support at manufacturing sites during development and product production ramp, and drive engineering issues to resolution
Flexibility to work in a fast paced and dynamic environment
What color would you want your future iPhone 5S? Drop us a line in the comments section below.