Yes, that's right! As promised, Apple has opened pre-orders for the new iPhone 5 on the online Apple Store. The pre-orders kicked off at 12 AM and many have already started reporting that the website isn't working very well under all the traffic.
Apple announced the iPhone 5 on September 12th with a new 4-inch taller display, A6 processor, new camera optics, iOS 6, new design, LTE and more. The pre-orders started earlier today at 12 AM in the U.S and even AT&T, Sprint and Verizon have started pre-orders for the iPhone 5. The online pre-orders have also started in Australia, Canada, France, Germany, Hong Kong, Japan, Singapore and the UK Apple Stores.
If you've been waiting to get the iPhone 5, you should get on the Apple Store or AT&T/Verizon/Sprint stores to pre-order one. The iPhone will start shipping September 21st, but that is going to change as the number of pre-orders increase. You can book the iPhone 5 at $199 for 16GB, $299 for 32GB or $399 for 64GB on a two-year contract. If you're having trouble accessing the online stores, try using the Apple Store iOS app.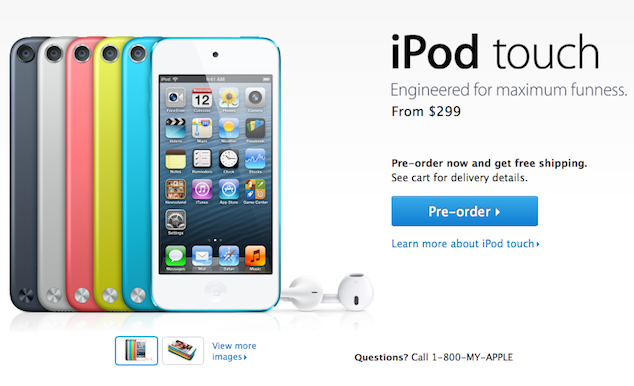 The new iPod Touch 5th gen with new colors and a 4-inch display is also available for pre-order from the Apple Store. iPod Touch 5G pre-orders start at $199 for 16GB and $299 for 32GB. The iPod Nano will also be available for pre-order later today for $199 for the 16GB.
Have you pre-ordered your iPhone 5 yet? Are you getting the new iPod Touch? Let us know in the comments.