New iPhone 5 Hammer And Scratch Test Shows The Rear Case Is Actually Pretty Well Made [VIDEO]
There were some concerns about the new iPhone 5 aluminum backplate. Reports and customer reviews suggested that the iPhone 5 rear casing was susceptible to scuffs and scratches rather easily. iFixit posted a video of a scratch test and it did prove that the rear aluminum panel did get scratches and scuffs easily. Could Apple really have not known about this problem? Well, a new scratch test video shows that the rear panel is actually very well made and scratches can be easily removed.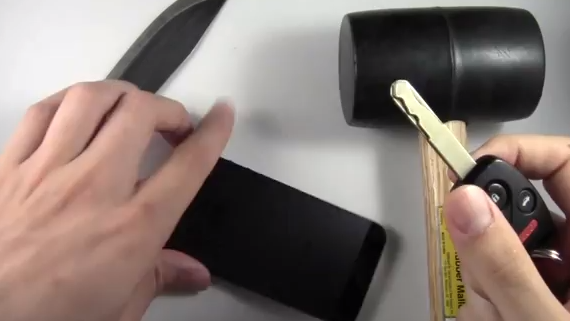 Phonebuff has uploaded a new video of their already cracked iPhone 5 undergoing more torture from keys and knives. Surprisingly, all those scratches just disappeared when rubbed with the finger. So I don't really know how the lady and the kid in the iFixit scratch video managed to scratch their iPhone so badly. Also, in this video, the guy drops a hammer on the iPhone and shatters the front glass even more. Despite all that, the iPhone display still functions and responds quite well to touch.
It looks like the iPhone 5′s rear panel isn't so bad after all. Nobody likes a scratched panel on a brand new iPhone, except the guys who do the scratch tests. The sides of the iPhone 5, however, do get scuffs as the knife test shows. Do you like the iPhone 5′s rear design? Drop us a line in the comments.
Make sure you stay subscribed through our social media feeds, so that you never miss a beat, by liking us on Facebook, following us on Twitter and joining our circle on Google+.
Hey, you! Join the iJailbreak Insider for weekly newsletters, Jailbreak alerts, contests and more. (No spam, we promise)