In the recent week, we've seen a lot of leaks pertaining to the larger 5.5-inch model of the iPhone 6. A credible source leaked pictures of the front and back of the 5.5-inch iPhone 6. Although, you can't really tell the size of a non-existent smartphone unless it's compared to a real product. In this following video, a YouTuber compares a mockup of the 5.5-inch iPhone 6 to the Samsung Galaxy Note 3 and the LG G3.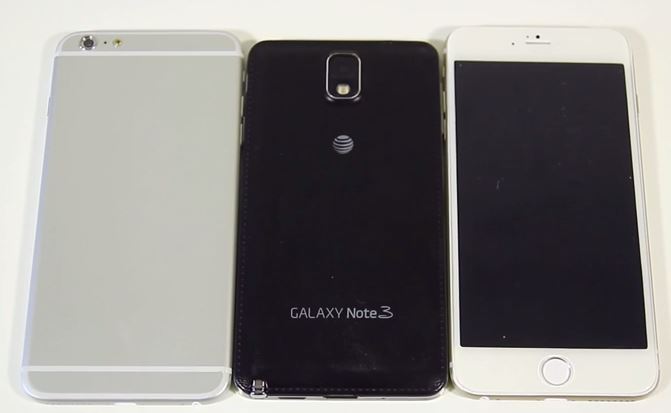 The 5.5-inch iPhone 6 is rumored to be released later this year and will plunge Apple into the 'Phablet' market. It has been reported that this particular model could feature a QHD display, similar to the one found on the LG G3.
According to the YouTube user who compared the 5.5-inch iPhone 6 to the Note 3 and the LG G3, it is huge! Since the current iPhone 5s only has a 4-inch display, an extra 1.5-inches of screen estate is a lot. However, users will most likely prefer the 4.7-inch iPhone, as it is much easier to hold and operate than the 5.5-inch model.
When compared to the Galaxy Note 3, the iPhone 6 mockup is taller in size, as it has more space on the top and bottom bezels. While other smartphone manufactures are slowly getting rid of all physical buttons on the front of the device, Apple remains to stick to its design ethics. No buttons equals more screen on a smaller sized device. For example, the Note 3 has a 5.7-inch display and is still smaller than the iPhone 6 dummy.
In comparison to the LG G3, the 5.5-inch iPhone 6 is larger in both height and width. It is also slimmer than both the Note 3 and the G3. Check out the full video below:
To me the 4.7-inch iPhone 6 would be the best bet! That larger 5.5-inch mockup looks like a handfull and would be much harder to operate. Moving the Power/Wake button to the side would make it a little easier, but I'd still prefer the 4.7-inch model.
What about you?