There's been a lot of talk about the latest Windows 8 beta that Microsoft recently released. The company seeded the Windows 8 Consumer Preview yesterday, which you can now download and try it on your desktop, laptop or tablets (if you have one). We've all been waiting to see how the latest tablet optimized OS from Microsoft performs against iOS on an iPad.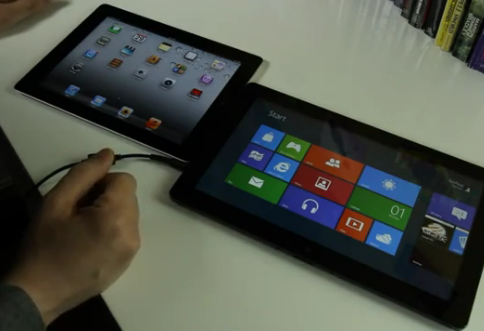 The Verge have done exactly that! They have taken one of the test tablets running Windows 8 and put it against the Apple iPad. The latest version of Windows brings a new look to it, with the Metro UI and tiles for apps, faster and better performance, gestures and much more! Windows 8 is well optimized for touchscreen and has some unique gestures for completing tasks. The Consumer Preview also gets the new Windows 8 logo and loses the Start button. Check out the video after the break to find out how the Windows 8 tablet performs against the iPad.
Windows 8 is definitely smooth and fast for a beta release, perhaps the final version will be much better. Apple too is unifying its mobile OS and Mac OS, with Mountain Lion being their latest example. If Windows 8 turns out to be awesome and bug free on tablets, desktops, laptops etc. then there's a slight chance that Microsoft could catch up to Apple in tablet sales.
So, what do you make of this comparison? Will you be buying a Windows 8 tablet?