Notcom, the developer behind TinyUmbrella, has released TinyUmbrella version 5.00.08 for Mac OS X and Windows. Here is the official changelog:
iPad 2 GSM/CDMA will restore the currently signed baseband so 10xx errors won't happen (This will cease to work once apple stops signing the current 4.3.x firmware's baseband)
Optional iPhone 4 baseband update is now available to those that are officially unlocked. NOTE: iPhone baseband can ONLY be restore/updated to a baseband that apple is currently signing. END OF STORY
Added 4.3.5, 4.3.4 support
Fixed a nasty baseband request error for ipad 2 cdma.
In case you don't know what saving your SHSH blobs actually does, it basically allows you to downgrade your firmware to a lower version. This is important if you accidentally update to a iOS/firmware version that cannot be jailbroken, as Apple prevents this otherwise.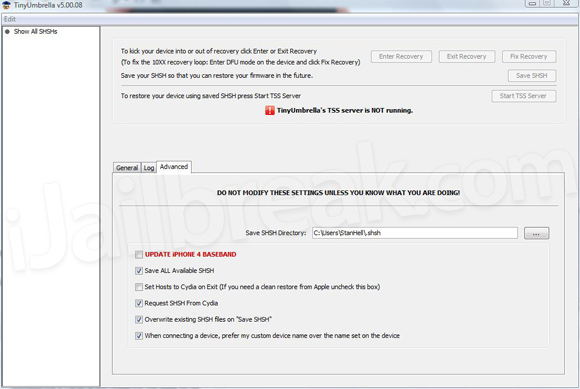 Follow our step-by-step guides to save your iPhone, iPod Touch, iPad and Apple TV SHSH blobs using TinyUmbrella, and to downgrade using TinyUmbrella:
You can download TinyUmbrella 5.00.08 from the iJailbreak Downloads Section. Additionally you can use one of the download mirrors below:
Download TinyUmbrella 5.00.08 (Windows)
Download TinyUmbrella 5.00.08 (Mac OS X)