During the announcement of the new iPad, Apple's Phil Schiller said on stage, that their dual core A5X processor performs 4 times better than Nvidia's quad core Tegra 3 processor in terms of graphics and speed. Nvidia then said that such claims cannot be taken into consideration without proper benchmark scores and results. We recently published a story about the comparison of the new iPad against the Asus Transformer Prime.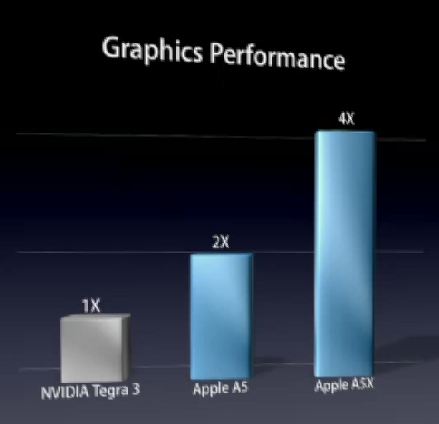 Here's another new benchmark test, performed by Laptop Mag, which shows that the new iPad's A5X processor does perform much better than Nvidia's Tegra 3 and provides much better graphics. However, the quad core Tegra 3 processor does beat the A5X when it comes to crunching those numbers, memory management and visual effects.
They used GLBenchmark 2.1 to see the scores on both the new iPad and the Transformer Prime. In the Egypt Standard test, the new iPad managed 6718 frames at 60 fps, whereas the Transformer Prime delivered 5,939 frames at 53 fps. In the Geometric test, the A5X processor did 7,530,524 frames at 57 fps while the Tegra 3 managed just 3,523,926 at 27 fps. The Fill test, that calculates the texturing speed, showed the new iPad processing 1.98 billion textels per second and the Prime a mere 404.61 million textels!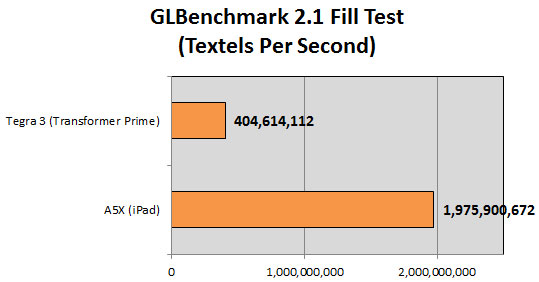 During the Geekbench test, the Transformer Prime scored a lot higher than the new iPad. This test is to see how fast the processors can chew things rather than the graphics and thus the quad core won easily here. The guys also played a few games such as Riptide GP and Shadowgun, which showed that the games looked much better on the new iPad's Retina display and also performed better. Though, the games on the Transformer Prime did have more visual effects as compared to the iPad's versions. Check out the video below for the full comparison.
There you go Nvidia! Now you know that Apple wasn't telling lies. What do you have to say about this? Are you enjoying those games on your new iPad? Let us know about your experience on that Retina display.