Sn0wBreeze 2.2 R3 Released With iBooks Issue Fixed [iOS 4.2.1 Untethered Jailbreak]
Just a quick heads up; iH8sn0w has released Sn0wBreeze version 2.2 R3 which includes a fix for the iBooks issues for iDevices that previously didn't work. It now seems as if all jailbreaking tools will be pre-equipped with this iBooks patch as to avoid any issues with users who read DRM equipped iBooks. I guess the Devs have beat Apple this time but it will be interesting to see if Apple comes back and thinks of some other ways to hinder jailbreaking…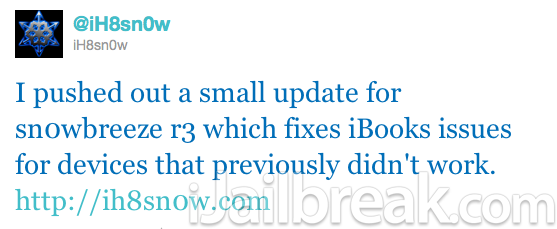 For those who are unfamiliar with the tool Sn0wBreeze, it's similar to the iPhone Dev-Team's PwnageTool, in that you are able to build custom firmware to restore with in iTunes (Windows only). Sn0wBreeze v2.2 includes some new features such as untether jailbreak for iOS 4.2.1, baseband preservation mode, as well as the ability to play Pac Man while Sn0wBreeze is creating your custom IPSW file.
Follow our step-by-step guide below to jailbreak your iPhone, iPod Touch and iPad using Sn0wBreeze v2.2:
Make sure you stay subscribed through our social media feeds, so that you never miss a beat, by liking us on Facebook, following us on Twitter and joining our circle on Google+.
Hey, you! Join the iJailbreak Insider for weekly newsletters, Jailbreak alerts, contests and more. (No spam, we promise)