Could Siri Be Coming To The iPad In The Official iOS 5.1 Firmware?
It is currently being reported by 9to5Mac that while references to new Apple iOS devices were not mentioned in the iOS 5.1 beta 3 firmware something else interesting was indeed discovered: Siri Dictation references. This reference to Siri Diction on the iPad, to our surprise, was not embedded in a hidden file, and was not found by analyzing lines of code. Apparently when you install the iOS 5.1 beta 3 firmware on an iPad (an iPad 2 in the case of this discovery) a new section in the keyboard called "About Privacy and Dictation" is added. Upon opening this new section you are presented with the standard legal literature and feature information for Siri Dictation.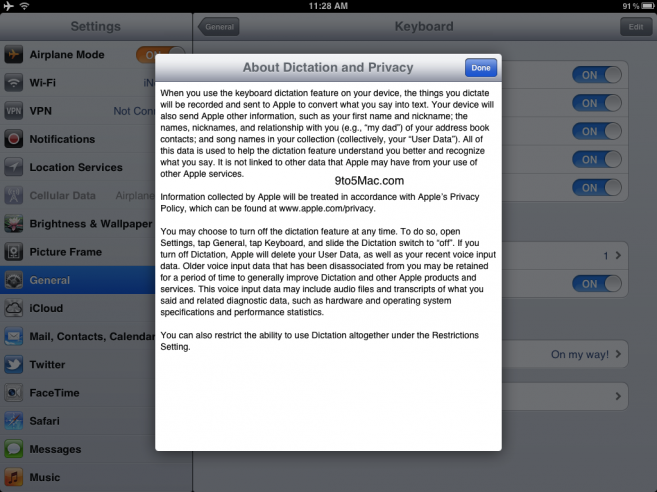 Unfortunately Siri Diction does not actually function on an iPad running the iOS 5.1 beta 3 firmware. This could mean a couple of things such as this will be specific to the official release of the iOS 5.1 firmware, or we will only see Siri Diction in the next generation iPad (iPad 3). Additionally, right now it is not known whether this means we will see only limited Siri Support (only Siri diction) or whether there will be full-blown Siri support.
We will keep you updated when more information is uncovered. Until that time please stay tuned to iJailbreak.com and leave any questions or thoughts in the comments section below…
Make sure you stay subscribed through our social media feeds, so that you never miss a beat, by liking us on Facebook, following us on Twitter and joining our circle on Google+.
Hey, you! Join the iJailbreak Insider for weekly newsletters, Jailbreak alerts, contests and more. (No spam, we promise)