Are you waiting for an iPad 2 jailbreak? If you are, you will be glad to know that only a few minutes ago P0sixninja tweeted significant progress has been made on the iPad 2 jailbreak. Just like most tweets from Dev-Team members, people usually misinterpret them, and thus P0sixninja has quickly followed up tweeting there is obviously no ETA (estimated time of arrival) on the iPad 2 jailbreak.
It is important to understand that when your working with new hardware you must expect the unexpected. P0sixninja and everyone else who is working on the iPad 2 jailbreak is doing the best they can to bring you such a jailbreak as soon as possible.
If you are interested you can take a look at P0sixninja's tweets below…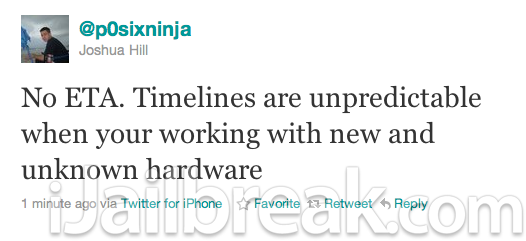 Let us know if you are waiting for the iPad 2 jailbreak in the comments section below. As always we will keep you guys updated if we hear anymore information on the status of the iPad 2 jailbreak. Until that time please stay tuned!