It has been awhile since a fresh rumor of the iPad Mini has sprung up, but according to MacRumors a number of photos have appeared on the Chinese WeiPhone forums that could be of the rear shell of the second generation iPad Mini. When you analyze these photos you will realize that they are very similar to that of the current generation iPad Mini, although it appears to be slightly thicker.
Assuming these pictures are real, the increase of thickness could be due to Apple implementing a Retina display in the second generation iPad Mini. When the iPad received a Retina display it was slightly thicker due to the size of the display and new internals needed to power it. As MacRumors points out however, " it [could simply be a] bit of an optical illusion due to the fact that the edges of the shell have not yet been chamfered as they are in the final product."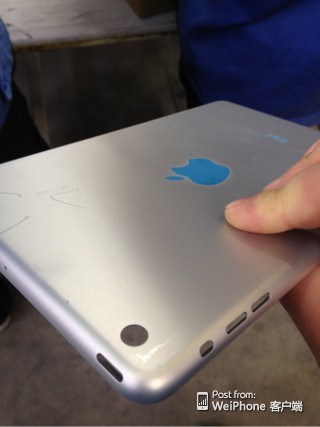 One thing that automatically draws your attention in these photos is of course the blue Apple logo. One theory is this could be part of the process of creating the mirrored logo and text seen on the current product. It could also be taken as a hint hat Apple is experimenting with different color combinations.
What do you think? Is this shell the real deal or is this just another hyped up rumor? Let us know in the comments section below.