The great gem that is needed for all your AmpliTube ( or any other IK Multimedia apps ) needs. I present to you the iRig!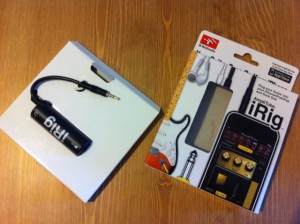 Ok! So following up on the review for the iKlip and AmpliTube, we have the iRig. The gem to make it all happen. This baby allows you to connect your guitar, electric guitar, bass, and I'm pretty sure piano, into your iPad/iPhone/iPod and play/record till your hearts content. Without this it wouldn't be possible.
Buy the iRig from IK Multimedia for $39.99 ( Absolutely worth it ), and have you bought AmpliTube yet?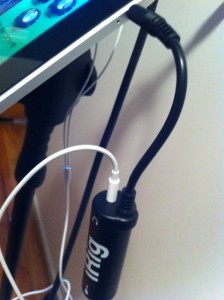 What I love about the iRig is that it is small and light weight. Very easy for me to throw into my guitar case and get to my next destination to play music! It comes with an easy to connect port for your patch cord and for your head phones. But don't let the head phones jack fool you because you can easily connect it to a massive sound board and your laughing! ( I will show you what I mean in the commercial to come! Stay tuned! )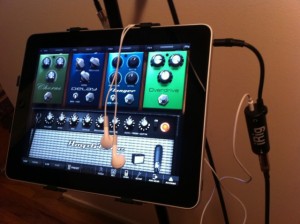 Once you connect the iRig into the iPad, AmpliTube detects the connection right away and asks you if your using headphones or stereo as a warning to turn down the volume just in case! Good idea guys! There is nothing complicated with this great product at all! Once you take it out of the box guys, it's pretty much smooth sailing from there. Obviously you need a patch cord for this to officially work so make sure you have one on hand when you BUY THE IRIG!
I have no complaints at all about this master piece because it is honestly just great and should be part of your collection just like the iKlip and AmpliTube from IK Multimedia! Once again, stay tuned for the commercial coming up as we show you all 3 great products in action!
Hats off again to everyone at IK Multimedia! Especially Starr Ackerman! You are just awesome!