It looks like the era of home consoles dominating the gaming market might be on its way out, if the numbers in a new Nielsen report are accurate. They've surveyed a whole bunch of children aged 6-12 in the U.S., and asked them what they'll be trying to get their parents to buy them when it comes to electronic gadgets. The most-requested gadget was not, in fact, the Super Nintendo, but rather the Apple iPad.
The survey shows that a whopping 48% of kids have the iPad on their wishlist, a much higher figure than any other device. Second place went to the Wii U, with 39% of kids asking for the new Nintendo console. A selection of Apple gadgets like the iPod Touch and iPhone round up the rest of the top five, and the good old PC takes the sixth spot.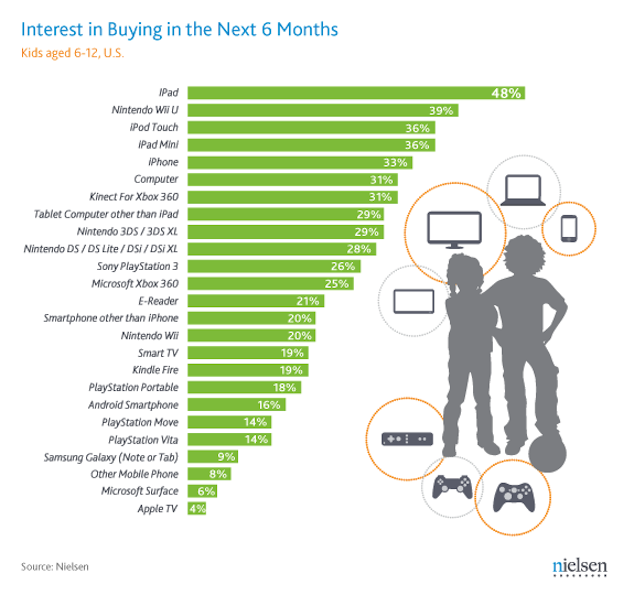 Surprisingly, neither of the two rival home consoles, the Xbox 360 and the PlayStation 3, are very high up the list. The two consoles find them selves in tenth and eleventh place, with around 25% of children looking for one of the aging consoles.
It's worth noting, however, that the 360 and PS3 have both been on the market for several years now, and most households who really want one will have purchased one by now. The low numbers for the consoles in this survey may have more to do with the fact that everyone has them already, rather than no one wanting them. We'll be curious to see next year's study, if the next-gen consoles from both Microsoft and Sony arrive before Christmas as expected.
In a similar study, Nielsen also polled some adults about their gadget-buying plans for the next six months, and the results are similar. The iPad comes out on the top of the heap once again, but the PC takes the second spot, and non-Apple tablets (which presumably includes all of the Android offerings) take third place. The Xbox 360 and PlayStation 3 are once again quite far down the list, with only 7-8% of adults saying they're in the market for one of the consoles. Again, we imagine next year's numbers will be quite different in this regard.