Apple released the iOS 4.3.4 firmware yesterday to patch the PDF vulnerability Comex used to bring JailbreakMe back from the dead. With this said, that means all of those who updated to the iOS 4.3.4 firmware and did not save their iOS 4.3.3 SHSH blobs were left stranded with no Jailbreak. Fortunately if you are in this situation, there is some light at the end of the tunnel. The Dev-Team have released an update for RedSn0w, bringing RedSn0w to version 0.9.8b3, that can Jailbreak the iOS 4.3.4 firmware tethered.
Thus, as the Dev-Team have stated, this will be your only option at this time if you have updated to the iOS 4.3.4 firmware.
For the convenience of kernel hackers like @comex and @i0n1c, we have a new redsn0w 0.9.8b3 that supports a TETHERED jailbreak for iOS 4.3.4 on all devices that have 4.3.4 except the iPad2. The vast majority of people will want to stay back at 4.3.3 because that's where the untethered jailbreak is! There are no new features in 4.3.4 — only fixes for jailbreak exploits.
Compatibility Note: This Jailbreak will work for all iDevices running the iOS 4.3.4 firmware except the iPad 2. If you updated to the iOS 4.3.4 firmware you are out of luck and will not be able to Jailbreak at this time.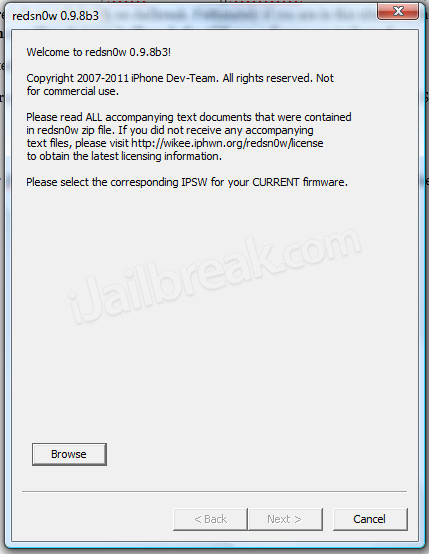 If you are interested in Jailbreaking your iPhone, iPod Touch or iPad 1G with RedSn0w 0.9.8b3 you can download RedSn0w 0.9.8b3 in the iJailbreak Downloads Section. Additionally ensure that all of you who are on the iOS 4.3.3 firmware save your SHSH blobs while you still can. Let us know if you are going to Jailbreak your iDevice tethered on the iOS 4.3.4 firmware in the comments section below…
UPDATE: Follow our step-by-step guides below to jailbreak your iPhone 4/3GS, iPod Touch 4G/3G or iPad (first-generation) tethered using RedSn0w 0.9.8b3 on iOS 4.3.4: