According to a new lengthy report from Korea's ET News (via 9To5Mac) Apple's iPhones and iPads are expected to get larger displays. This is according to sources familiar with the company's future product plans.
This news of course isn't new. We have heard numerous times that Apple is currently experimenting with larger iPhone models and iPad models, possibly for release as soon as 2014. But let's get on with the report shall we?
Starting out with the iPhone it is expected to get be upgraded to a 5-inch screen, with the iPad getting split unto both pro and entry-level models, where one model will have a 13-inch display. iPad Maxi anyone?
Here are some of the major points from the lengthy report:
The next-generation iPhone is expected to come with a bigger display that is at least 5-inches.
Just as the iPhone was split into two models, the iPad will be split up into affordable and premium variations depending on the display. There will also be a 12.9-inch iPad which will be released next year for e-textbook and enterprise markets.
Apple will being integrating OLED displays into its products because they are more power efficient and flexible which is required for its upcoming iWatch.
Although we initially threw the iPad Maxi rumors out the window, we have begun hearing this rumor on a consistent basis which usually means there is truth to it and Apple is indeed working on such a tablet.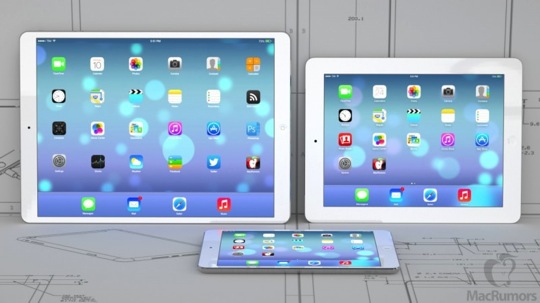 When it comes to the iPhone 6 getting a 5-inch display, however, it is hard to say. We have heard mixed reports with some sources claiming it will be anywhere between 4.5-inches and 5-inches. I seriously doubt we will be seeing an iPhone released with any bigger of a screen than 5-inches, Apple said itself large screens just have too many compromises because it can no longer be used with one finger.
Lastly as for the OLED displays, Apple has been hiring experts in the field, but again Tim Cook has said that until the technology can match the tech the Fruit Company currently uses it is out of the question. And unless something has changed in the last couple months, I can't see it being used for anything besides the iWatch.
What is your take on this report? Drop us a line in the comments section below.