It looks like those that are attending the MyGreatFest in London will be in for a treat! The yet to be released untethered faster exploit to jailbreak iOS 5 and the iPhone 5 will be demonstrated live at the event!
In a tweet, Craig Fox – organiser of the event – said: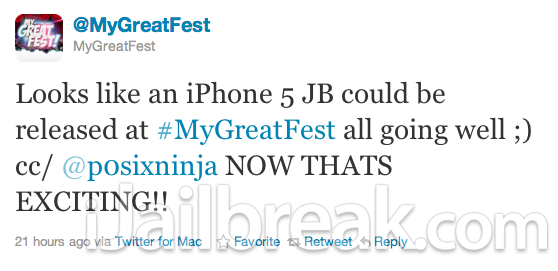 The new jailbreak will allegedly be engineered by Joshua Hill, also known as @p0sixninja on Twitter, the developer of the GreenPois0n tool, and a tweet from him seems to confirm that the iPad 2 jailbreak is almost ready and under control.
iJailbreak is a sponsor of MyGreatFest which will take place on September 17th in London and will feature some important iPhone developers, including creator of Cydia, Saurik, developer of GreenPois0n, Joshua Hill (@p0sixninja), @pod2g, Elias Limneos, creator of several iOS tweaks such as FoldersInFolders; and the developers of iDroidProject, which aims to bring Android and Linux to iOS devices.
Additionally, in relation to the rumored major overhaul of the iPhone 5 when it is released in September, hackers have also promised to ensure that a jailbreak will accompany the release.
What an exciting fall we have planned!
[via RedmondPie]