Siri is Apple's new voice recognition software which will act as your personal assistant. You can give Siri commands such as setting your alarm, find a restaurant nearby, navigating to a destination of choice; the list could go on and on. While Siri sounds like an exciting piece of technology the technology community was disappointed when we found out that Siri would be limited to the iPhone 4S. For Jailbreakers, however, this limitation screamed a new challenge to the iPhone Dev-Team and other tinkerers. Thus, numerous people thought Siri might be ported to other Apple devices like the iPhone 4S/3GS, iPod Touch and iPad.
Today MuscleNerd has tweeted some unfortunate news for those hoping for a port of Siri. MuscleNerd mentions that a port of Siri to the iPhone 4/3GS, iPod Touch or iPad is not looking like a feasible idea. He notes that it can probably not be done without piracy issues (something the Dev-Team avoid completely). Meaning if the only way to port Siri to other Apple devices is through using copyrighted material, the Dev-Team will not release anything to the public.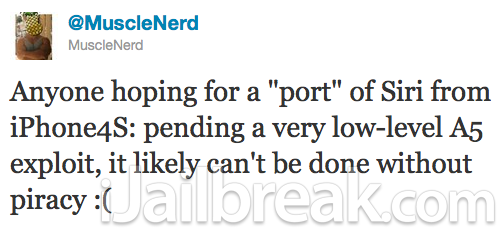 We will keep you updated if we hear anything else on Siri being ported to the iPhone 4S/3GS, iPod Touch or iPad. Don't forget to share your thoughts in the comments section below.