Apple's iPad is without a doubt what started the tablet craze, despite being brushed off as simply a larger iPod in its early stages. If you have ever used an iPad you will know why it remains the best tablet money can buy to this day. J.D. Power and Associates' have now given the iPad the award for the highest customer satisfaction for the second time in a row (it has only been two years since J.D. Power started doing tablet awards).
The iPad received a score of 836 out of a 1000 point scale that J.D. Power and Associates uses to measure customer satisfaction with the average being 828. Amazon trailed closely behind Apple with a score of 829, followed by Samsung, Asus and then Acer.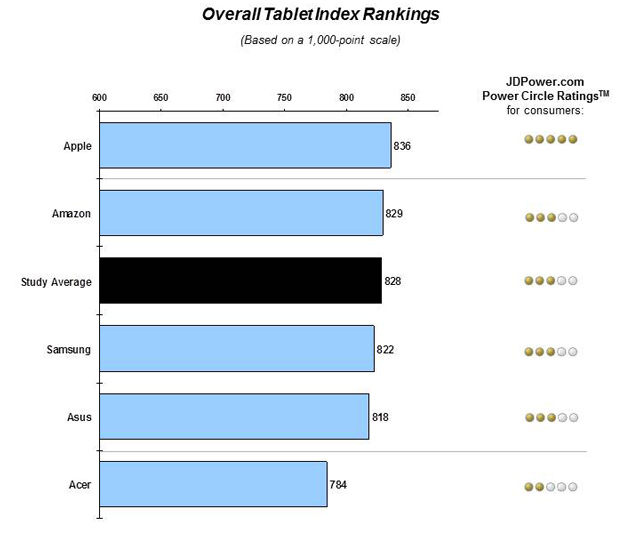 Apple has even updated their Why iPad web page with the new J.D. Power score and some stats like 81% of tablet web traffic comes from iPad.
People love using iPad. We know because they've said so. In a study by J.D. Power and Associates, Apple ranked "Highest in Customer Satisfaction Among Tablets."  The American Customer Satisfaction Index also ranked Apple first in the category of personal computers, which includes tablets. And because people love iPad so much, they're doing more with it — a lot more. Here are just a few examples.
Among other things the study done by J.D. Power found:
Tablet owners who also have a smartphone spend 36 percent more time browsing the Internet on their tablet than on their smartphone.
Twenty-seven percent of tablet owners say they are likely to buy a new tablet within the next 12 months, compared with 37 percent in 2012.
Ninety-four percent of highly satisfied tablet owners are likely to purchase additional consumer electronic devices from the same manufacturer.
If you remember back to March Apple was also awarded its ninth consecutive J.D. Power and Associates award for customer satisfaction for the iPhone. It is safe to say that Apple's attention to quality translates into better customer satisfaction.