The iPad Mini has a lot of people raving about, and for good reasons! The iPad Mini isn't just a scaled iPad, Apple completely had to re-engineer everything about it to make it more, not less of an iPad-like experience. We liked the iPad Mini so much that we have decided to give one away to one lucky reader, just like we did with the iPhone 5.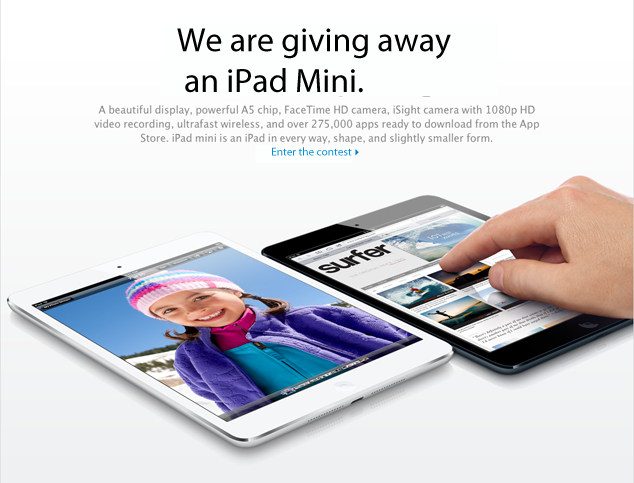 We will be giving away a 16GB iPad Mini (Wi-Fi version), but in the form of a $329 USD Apple Store gift card. The reason why we are going to be giving away a gift card versus a physical iPad Mini is because it allows us to open up the competition to everyone around the world, not just people in North America.
How To Enter The iPad Mini Giveaway
With the housekeeping material out of the way, let's move on to how you actually go about entering this iPad Mini giveaway. In order to be eligible to enter the 16GB iPad Mini giveaway you must complete the 5 requirements listed below.
Send out the following tweet below, and follow @iJailbreak on Twitter
I just entered to win a 16GB iPad Mini! http://bit.ly/RMW1Am Follow @iJailbreak & RT to WIN!
Click the Facebook Like button and Google+ button at the top or bottom of this article
Join our Facebook Crew and our Google+ Circle
Leave a comment with both your Facebook and Twitter username, and also the reason why you should win the giveaway
The winner of iJailbreak's 16GB iPad Mini giveaway will be announced next Monday! Please ensure that you have completed all 5 steps to be eligible to enter our giveaway and let us know if you have not completed a step to avoid being disqualified. From the iJailbreak team, we wish you all the best of luck!
Update: The contest has now closed and a winner has been announced.