A new report from an analyst with the Deutsche Bank notes that the line between notebooks and tablets is rapidly blurring as more tablets are becoming more productive and powerful. The analyst, Chris Whitmore notes that the use for the iPad has explode from the initial launch to cover aspects such as textbooks, pilot flight bags, and even medical diagnostic tools.
With a third-generation iPad expected to be launched in March, Whitemor sees Apple able to expand on the market share more. Possibly bringing new features such as a Retina Display, A6 quad-core processor, and Siri voice control, this will expand the ability of the iPad to even more areas. Whitemor argues that:
With other tablet vendors in disarray (shifting from Android to Win8), we expect the iPad 3 introduction to drive additional share gains in the mobile computer market
Estimates from Deutsche Bank shows that Apple has a combined market share of 25% of the tablet and notebook market. When compared with the other main competitors such as HP, Acer, and Lenovo, the trend is clear.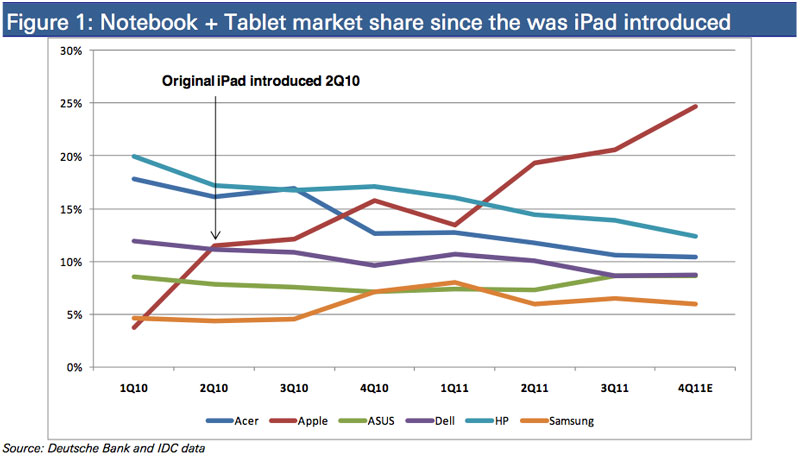 Over the past 12 months, there have been many tablets released by competitors, but none that have been able to come close to the iPad, as many are "me-too" products, offering little differentiation with one another. Whitemor believes that the Samsung Galaxy Tab 10.1 and the Asus Transformer Prime are "more relevant" products as iPad competitors than the Amazon Kindle Fire. In addition to claiming many other tablets non-competitors, he also believes that many device makers will shift away from using the Android platform and instead use the upcoming launch of Microsoft Windows 8. Windows 8 will feature support for low-power ARM chips found in tablets, enabling the long battery life that has become standard for tablets.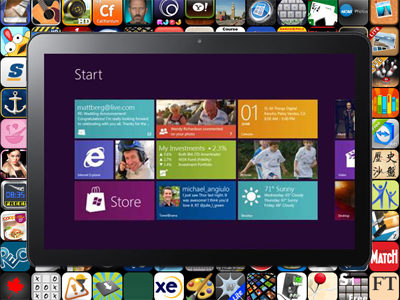 However Apple has had a three-year head start and with about 170,000 applications available just for the iPad exclusively, he doesn't see Microsoft's Windows 8 catching up in tablets anytime soon.
"Win8 based hardware is unlikely to ramp in earnest until 2013," he wrote. "This leaves the window wide open for Apple to extend its lead in the market and drive substantial growth and profits going forward."
The Deutsche Bank sees "phenomenal product momentum" from Apple going forward, particularly with their iPad and iPhone products, driving healthy growth into 2013. The investment firm has reiterated its "buy" rating for AAPL stock with a price target of $600. It is difficult to argue against this momentum, as we have seen record sales from their mobile products, each new one, breaking the old record of the previous such as the iPad 2 and iPhone 4S.
Do you see Windows 8 tablets making much of an impression in the tablet market in the future? Tell us why or why not in the comments below.
[Via Apple Insider]