iPad 3 Has More Tapered Edge And An 8 Megapixel Back Camera [Rumor]
The lovely people over at NextMedia/Apple Daily claim that they have received more evidence of an improved camera in the upcoming third-generation of the Apple iPad. Through "special channels" they have received photos of what is reportedly an iPad 3 showing a greater tapered edge on the rear shell. The photos compare the edges against the iPad and the iPad 2, which does show a slightly tapered edge and a new location for the rear camera.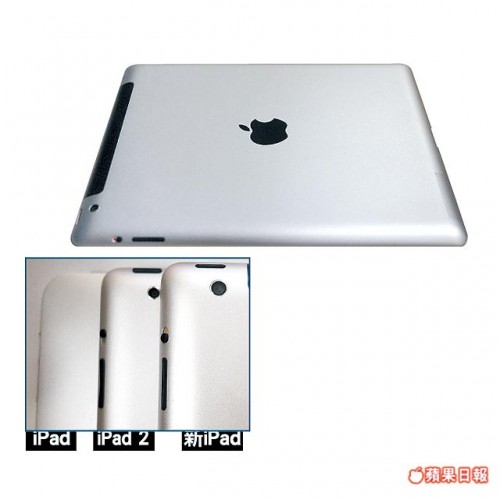 Due to this longer taper the rear camera is now on the taper. We will have to see how this plays into the overall comfort of holding the iPad, but I doubt Apple would make something that isn't comfortable. Taking a closer look at the camera, it does seem to be larger than the iPad 2′s version. According to the report, the iPad 3 now sports a 8 megapixel rear camera. This is a huge leap forward from the current 1 megapixels disappointing camera. The report also goes on saying that it will have an improved display, quad-core processor and a March 7th announcement date.
Do you prefer the tapered edge of the iPad 2 over the none tapered iPad, or other tablets? Share with us your opinion in the comment section below.
Make sure you stay subscribed through our social media feeds, so that you never miss a beat, by liking us on Facebook, following us on Twitter and joining our circle on Google+.
Hey, you! Join the iJailbreak Insider for weekly newsletters, Jailbreak alerts, contests and more. (No spam, we promise)