iOS iDevices are now Making Up 2/3 of Apple's Revenue!
In an interesting article today from 9to5mac, they have just shown that Apple is currently making 2/3 of their revenue from iOS iDevices. Which when you think about it, is a pretty unbelievable statement, considering Mac Computers and the iTunes store only account for about 25% of Apple's revenue. While they have been around for numerous years longer than iPhone's, iPad's etc…
If you take a look at 9to5mac's infograph you will see that in terms of revenue earnings the  iPhone is at 39%,  iPads are at 17%, and  iPods are at 13%; with the iPodTouch being the #1 seller of course.  If you then throw a few percentage points in for the AppleTV, you can see that iOS iDevices are comfortably at 2/3rds of Apple revenue.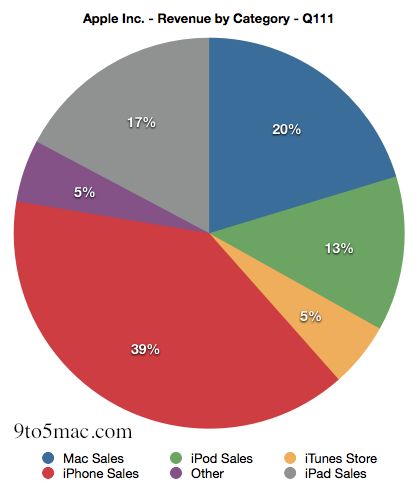 This just really shows you how much products like the iPhone and iPad have sky-rocketed Apple's sales in the last few years. What are your thoughts these bold findings?

Make sure you stay subscribed through our social media feeds, so that you never miss a beat, by liking us on Facebook, following us on Twitter and joining our circle on Google+.
Hey, you! Join the iJailbreak Insider for weekly newsletters, Jailbreak alerts, contests and more. (No spam, we promise)