Spotify launched Thursday, July 14th as a radical platform offering free and legal access to a huge library of music. Meaning Spotify is a brand new music streaming service with access to over 15 million songs. Spotify is currently available for FREE (iTunes link) in Sweden, Norway, Finland, the UK and the US as an invitation only beta testing period.
In order to provide access to such a large database of music Spotify is funded by advertisements visible in the application, and audible advertisements played for 30 seconds every 20 minutes. Spotify is also proving a premium subscription service that costs only $9.99/month that will have no advertisements while listening to music.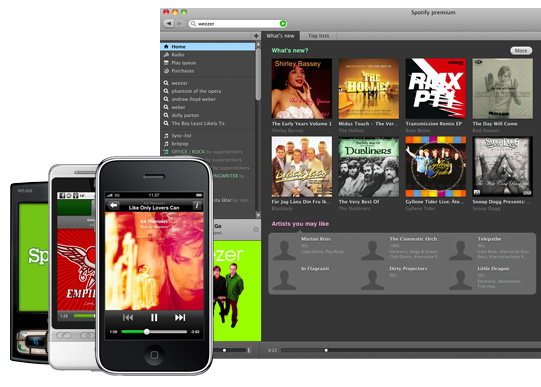 Spotify comes in all shapes and size, available for your PC, Mac, home audio system and mobile phone. Wherever you go, your music follows you. And because the music plays live, there's no need to wait for downloads and no big dent in your hard drive.
Unfortunately if you cannot get your hands on a FREE beta invitation in the U.S. you will not be able to use Spotify until it comes out of beta or until they open up their premium plan. For those in Sweden, Norway, Finland, the UK who cannot get their hands on a beta invitation you can alternatively subscribe to Spotify's premium service.