There is no shortage of game  controllers for your iOS device, but this particular game controller called FlipSide is worth your attention. FlipSide is a new KickStarter project that is going to be produced by a company called iDevices, which is the same company behind products like iGrill and iShower that are actually sold in the Apple Store.
What makes FlipSide unique is it features low power Bluetooth 4.0 connectivity that not only is extremely energy efficient, but has a 6 millisecond response time. Older Bluetooth protocols have over a 100 millisecond response time.
Thanks to the Bluetooth 4.0 connectivity, FlipSide can be powered by a special thin film battery from Infinite Power Solutions and built-in solar panels. The thin film battery is thinner than a stamp and has a life span of over 10 years! Another benefit to the battery is that it allows for trickle charging. This basically means the battery can be charged in all lighting conditions, whether you are indoors or outdoors (just like solar powered calculators).
The end design of the gaming controller will be 3mm or less, which is the thinnest game controller yet. This is possible thanks to the thin film battery and Bluetooth 4.0 connectivity.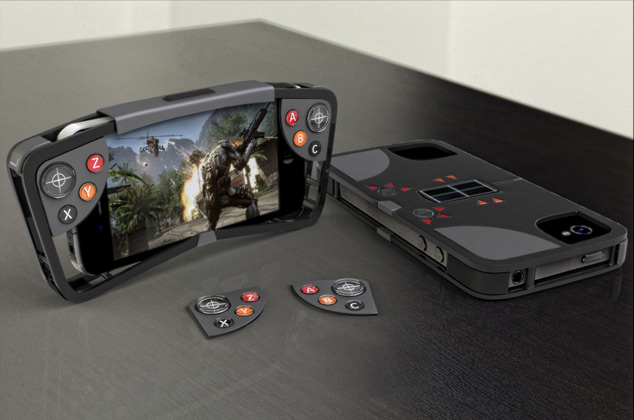 What about the supported games? Well, things seem to be looking up for FlipSide, thanks to iDevices connections with Apple. The game controller will likely support Gameloft games off the bat.
I've heard that many popular Gameloft games will be supported by this controller, is this true?

Good question.

Gameloft recently released a controller of its own called the "Duo Gamer". We believe that the Duo Gamer uses an Apple created api. If this is indeed true we will very likely be able to use the same standard as set by Apple for Gameloft to use.
This is without a doubt one of the best game controllers I have seen in some time and if you are thinking that same thing you will want to check out the official KickStarter page. The creator of FlipSide is trying to raise $135,000 and at the time of writing this article has amounted nearly a $7,000 backing. A pledge of just $60 will get you one of these bad boys when shipping begins.